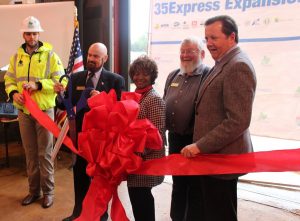 On a miserable, rainy morning Nov. 8, the Texas Department of Transportation cut the ribbon on Phase 1 of the 35 Express project, the $1.4 billion 30 mile construction project to widen I-35E between Dallas and Denton.
The end result was an extra lane throughout, with the highway south of the Corinth Parkway exit expanded from three lanes to four and north expanded from two lanes to three.
An additional two tolled lanes, or "express lanes," run from just north of the Lewisville Lake bridge all the way to Dallas, either northbound or southbound depending on the time of day.
A second phase of the project to add another lane, estimated to cost $3.4 billion, has been in the works since the project was first announced in 2013, but TxDOT has yet to receive funding for it.
Read more from The Lewisville Texan Journal.