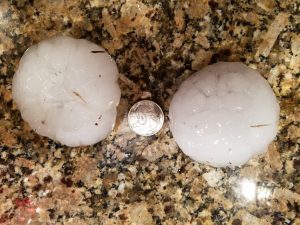 A brief but vicious hail storm rolled through southern Denton County around 8 p.m. on Sunday night, dropping up to tennis ball size stones on homes, businesses and vehicles.
Affected areas included Justin, Northlake, Harvest, Argyle, Bartonville, Lantana, Copper Canyon, north Flower Mound and Highland Village.
Argyle Fire Chief Mac Hohenberger was heading to a house fire in Justin when he got caught in the storm and hailstones shattered the windshield of his truck. He pulled over and took shelter in an abandoned house to ride out the storm. Hohenberger was not injured.
Damage reports such as broken skylights and windows were rampant. Not to mention the thousands of roofs that took a beating.
In fact, roofers were swarming the area hours after the storm; however, it may pay to wait.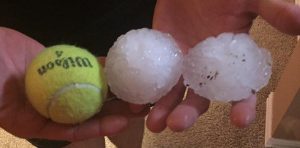 "Don't be in a rush to put a new roof on your house. Don't sign a contract with someone knocking on your door tomorrow," said State Farm agent Jim Bridges of Bartonville. "Turn in the claim, let the insurance adjuster come out, and lean on your agent to give you referrals for reputable contractors."
Texas Attorney General Ken Paxton warned of the dangers of unscrupulous contractors who may be seeking to take advantage of property owners.
"Hail can cause tremendous damage to homes and businesses, and unfortunately, bad actors are always lurking to take advantage of a situation," Paxton said.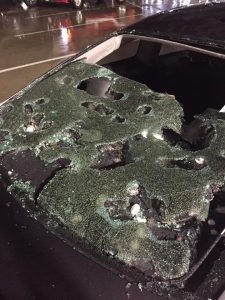 "This includes contractors who fail to do the work they promised at the price they promised, and who promise to get around deductibles and even give money back. I caution everyone against getting involved with these kinds of scams. Remember: If something seems too good to be true, it probably is."
Scams involving contractors failing to perform work they were paid to do are not uncommon following such disasters. Hail victims are reminded to be wary of contractors from out of the area, don't rush into signing a contract, ask for references and check with the Better Business Bureau to ensure they're working with a trustworthy business.
Texans who believe they have been scammed should call the Office of the Attorney General's toll-free complaint line at (800) 621-0508 or file a complaint online at www.texasattorneygeneral.gov.
Follow us on Twitter for updates.