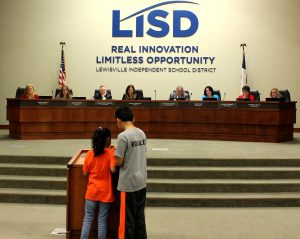 Two political action committees have taken shape around the upcoming Lewisville ISD bond package vote.
One is for the bond, one is against it, and both are chaired by members of the facilities advisory committee, which put the package together in the first place.
The $737.5 million bond package, which will go to a public vote May 6, is the product of months of work by the committee, comprised of 89 residents from all walks of life across the district.
Hedrick Elementary in Lewisville would be torn down under the package, and the district has faced significant criticism from Hedrick parents and alumni who want the school to be rebuilt.
Multiple members of the board of trustees listed not wanting to contradict the advisory committee's decision as a reason why they put the package up for a vote in spite of the controversy.
Read more from The Lewisville Texan Journal