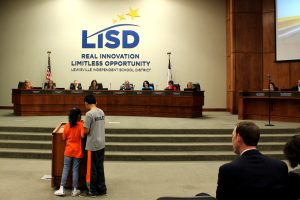 In a unanimous decision, the Lewisville ISD school board called for an election on the $737.5 million bond that has been under discussion since July. Under the plan, Hedrick Elementary in Lewisville will be torn down and not rebuilt.
The proposition will allow voters to vote for or against the bond, which represents funding for more than 30 projects to improve the district, be it refurbishing schools, acquiring new technology or building entirely new facilities.
The projects were selected for approval out of a pool of more than 40 by the Facility Advisory Committee, a committee of 89 citizens from all walks of life across the school district.
The I&S tax rate should the package be approved peaks at 44.65 cents in 2022. In a board workshop last week, district CFO Mike Ball said actually hitting that number would be a "worst-case scenario."
The board called for an election of one $737.5 million package. In previous years, athletic proposals were in a separate item.
Read more from the Lewisville Texan Journal.