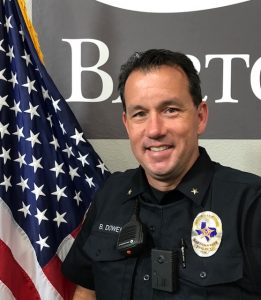 The town of Bartonville announced Wednesday it has appointed its new police chief.
Bobby Dowell, a 17-year law enforcement veteran, has been appointed as the chief of police, according to a news release from Michael Montgomery, the town administrator of Bartonville.
The former police chief, Corry Blount, resigned early this month to take the job of police chief of Lake Worth. Dowell was named the interim chief, and Blount said Bartonville is "in good hands" with Dowell.
"Bobby is a stand-up, solid guy," Blount said. "Everything we accomplished while I was chief, we couldn't have [done] without him. Every department would be glad to have a guy like him."
On Tuesday night, Bartonville Town Council discussed a permanent plan for the position of chief and chose Dowell, who joined the police department as a police officer in 2013 and was promoted to sergeant in 2015. Dowell is a U.S. Marine Corps veteran and served for more than 12 years in the Northlake Police Department, starting as an officer and advancing to sergeant, lieutenant and interim chief.
"Chief Dowell has a passion for community cooperative policing, transparency in law enforcement and the development of public safety in the town through community engagement and interaction," said the town news release.