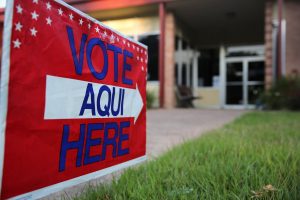 Early voting is underway for the Saturday, May 7, municipal and school elections.
A number of town council and school board seats are up for grabs in southern Denton County.
In Bartonville, two out of three spots on the town council will be contested. Candidates for Town Council Place 2 are: Jaclyn Carrington (I) and Richard Yerxa. Candidates for Town Council Place 4 are: Betty Medlock (I) and Jim Murphy. Running unopposed for re-election as mayor is Bill Scherer. Members serve two-year terms and represent the community at-large.
Bartonville voters will also will decide on reallocating sales tax revenue by reducing the rate for the Community Development Corporation from one-half of one percent to one-quarter of one percent; and increasing the rate for street maintenance and repair from one-quarter of one percent to one-half of one percent. There will be no change in the town's overall sales tax rate of 8.25 percent. For more information on the proposition, click here.
Double Oak residents will determine the fate of a proposed sales tax increase of 1 percent to help cover the costs of repaving roads and public safety. The current combined sales tax is 7.25 percent and, if approved by voters, would be 8.25 percent. Read more here.
Flower Mound voters will weigh in on four contested town council races. Running for re-election is Mayor Tom Hayden, who is being challenged by Janvier Scott (the third mayoral candidate, Jim Berendt, dropped out). Sandy Fambrough is attempting to unseat Bryan Webb in Place 2. Place 4 council member Steve Dixon is not running again and vying for his seat are Don McDaniel and Jim Engel. In addition, there will be a Special Election for the unexpired term in Place 1 between Jason Webb and Cathy Strathmann. Flower Mound council members serve two-year terms, each representing the entire town.
The Cross Timbers Gazette held a Flower Mound Town Council Candidate's Forum on April 14. The forum is being rebroadcast on FMTV through election day and can also be accessed on demand anytime here.
The City of Highland Village has contested elections in Place 1 (Mayor) and Place 4. Mayor Charlotte Wilcox has filed for re-election and is being challenged by Jim Archibald. Three candidates have filed for the Place 4 seat: Barbara Fleming, Dan Jaworski and Richard Rega. Highland Village City Council members serve two year terms.
The Cross Timbers Gazette hosted a Highland Village City Council Candidate's Forum on April 13. The forum can also be accessed on demand anytime here.
The Argyle ISD Board of Trustees has two seats open; the one currently held by board president Brian Ratcliff and the currently vacant seventh seat previously held by Greg Aune. In the running are: Ratcliff; Brad Lowry; Wes Timmons; Jennifer Pakebusch; and Jeff Williams. The top two vote recipients will become board members. Board members are elected on an at-large basis. Each board member serves a three-year term. Meet the candidates here.
Two out of three Lewisville ISD Board of Trustees races are contested. Candidates for Place 4 are: Katherine Sells of Lewisville; and, Fairooz Adams of Lewisville. Place 5 candidates are: Will Ferson of Flower Mound; Allison Lassahn of Highland Village; and, Jenny Proznik of Frisco.
The Cross Timbers Gazette and The Lewisville Texan Journal hosted a Lewisville ISD school board candidate forum on April 27, at LISD's Bolin Administration Center. Watch the forum here.
Voting
Early voting hours are 8 a.m. to 5 p.m. Monday, April 25, through Saturday, April 30, and from 7 a.m. to 7 p.m. on Monday and Tuesday, May 2 and 3.
During early voting, registered voters may cast their ballot at any early voting polling site.
The closest early voting locations in southern Denton County are:
-Flower Mound Police and Municipal Court Building, 4150 Kirkpatrick, Flower Mound
-Highland Village Municipal Complex, 1000 Highland Village Road, Highland Village
-Double Oak Town Hall, 320 Waketon, Double Oak
-Argyle Town Hall, 308 Denton St. Argyle
-Lewisville Municipal Annex, 1197 W. Main Street, Lewisville
-Justin Municipal Building, 415 N. College, Justin
Election day is Saturday, May 7, from 7 a.m. until 7 p.m.
Visit the Denton County Elections website for more voting information.