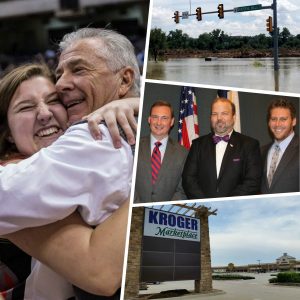 As we look back at 2015 in southern Denton County, we saw big changes in the weather, our landscape and the local political winds.
Here are our picks for the top news stories of 2015 (in no particular order):
Copious amounts of rain in April, May and early June closed roads, filled up reservoirs, flooded homes, businesses and parks, and delayed trash pickup, contributing to the wettest year ever recorded in North Texas.
With a mandate from voters to slow down commercial and residential development in Flower Mound, three newcomers were swept into office in May after a contentious race.
The new Kroger Marketplace anchoring Lantana Town Center in Bartonville opened its doors on May 22 to much fanfare.
Flower Mound High School students sparked national attention after displaying signs with the words "white" and "power" simultaneously during a basketball game in February.
Southern Denton County residents were up in arms over unusually high water bills this summer.
The discovery of a historic log cabin located inside an old house on the west side of Flower Mound by a developer prompted the town to pitch in and help save it.
Officials from Argyle ISD broke ground on the new Argyle Middle School in Canyon Falls.
Flower Mound residents who live near Rippy Road spent many hours attending town meetings to help shape the Highland Court residential development that was approved in April.
Corry Blount, a longtime law enforcement officer, was named Bartonville's Chief of Police.
Flower Mound's first movie theater opened in the booming Lakeside DFW development, where a luxury hotel and conference center was also approved.
The Argyle Lady Eagles won the 4A UIL girls' basketball state championship game on March 7 and coach Skip Townsend was named the Texas Basketball Coaches Association Coach of the Year.
The Flower Mound Town Council launched an investigation into possible ethics violations by council members in July that eventually implicated new council member Itamar Gelbman.
A multi-million dollar renovation was completed at The Shops at Highland Village.
Flower Mound officials and residents cut the ribbon on the town's $5 million, 22,000 square-foot senior center in May.
Lewisville Independent School District Chief Operations Officer Dr. Kevin Rogers was appointed as superintendent after the retirement of Dr. Stephen Waddell.
It was a muddy mess, but the Marcus High School Lady Marauders prevailed at the 6A Texas State Cross Country Championship in November.
Five months into his first term, Flower Mound Place 1 Councilman Brian Rountree resigned his position on council in October and was replaced by former council member Mark Wise.
Ground was broken in June on the five-story Courtyard by Marriott at the River Walk at Central Park, although other portions of the development are behind schedule.
In their second state title game, the Argyle Eagles baseball team brought home their first state championship.
Flower Mound's first dog park will soon be a reality after the town approved the $800 thousand project in April for Heritage Park.
What was your top story of 2015?  Tell us in the comments below.  Happy New Year!