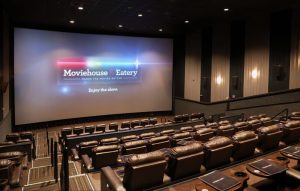 Seeing — and eating — is about to equal believing for Flower Mound as a show-stopping new dine-in theater opens tomorrow.
Moviehouse & Eatery Flower Mound at Lakeside DFW is nearly ready for a curtain call. The 45,000-square-foot facility will offer an upscale movie and dining experience with reserved seating in electric recliners with individual dining tables.
A mouth-watering menu of made-from-scratch meals is offered as well as a full-size bar with specialty drinks and local beers on tap.
Tickets won't cost much more than those at a regular movie theater. For shows before noon, tickets start at $7.50 for kids and $9.50 foradults. All other shows start at $12.
And you can forget standing in line at the box office. If you reserve tickets, you just go right on into the theater and settle into your viewing vantage point.The theaters swoop you into a world of theatrical wonder. Each one features Christie Digital projectors with High Frame Rate and QC speakers and Dolby Digital Surround Systems in 7.1 compressed digital format. Basically, you'll feel like you're right there in the middle of the action.
Now, let's talk about food. Imagine: savory pizzas, fresh sandwiches, salads, wraps, hearty burgers and pasta, in all different varieties. There are even dishes to satisfy a gluten-free, vegan or vegetarian preferences. Chef Brandon Hanna and his team make them all from scratch. Yum!
Moviehouse & Eatery Flower Mound offers a full-service bar and craft cocktails for you to enjoy. The lobby includes a stylish lounge with Texas taps, wine by the glass and libations like M&E Moonshine and Blueberry Ginger Sangria.
The best part? The whole process is as easy as a bucket of popcorn. Your server will show you the menu, take your order and have your meal before you in no time flat. During the film, all you need concern yourself with is relaxing and hitting the "call" button on your reclining chair for your server. You can even pre-swipe your credit card so your bill is settle without you missing even a frame.
Giving back to the community is important to Moviehouse & Eatery Flower Mound. The theater is teamed up with Lewisville-based Christian Community Action to give area residents a glimpse of what to expect during their soft opening and help raise funds for a good cause.