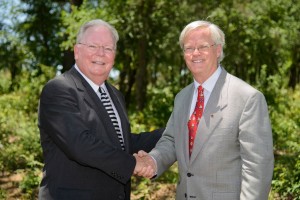 Flower Mound's future Pearl on the Peninsula Hotel and Conference Center will sit on land with a background as deep as the flower and grass roots on the historic Flower Mound itself.
"My pioneer family settled on 800-acres around Denton Creek in 1890," said L. Scott Tarwater, partner and president of New Era Hotels and Resorts. "It was important to be near a water source to raise cattle and grow crops."
The Tarwater family home was built in 1905 by Scott's grandfather and the family lived on their land until 1984. Tarwater and his wife, Donna, were married on the stepping stones leading to the house.
"The Army Corps of Engineers came in 1948 and condemned our land that's now under Grapevine Lake to begin construction on the dam and the lake was finally completely filled by 1953," said Tarwater. "Growing up there was truly idyllic, though. I'd either jump on my horse or my bike and just go … like Huck Finn. I can't imagine a better childhood."
While the Tarwater's homestead was a distance from the central area of what would eventually become the Town of Flower Mound, young Scott traveled over properties owned by local families, such as Andre Gerault, Andrew Morriss, Edward Marcus and his property/tree-farm manager, Bob Rheudasil, the first mayor of Flower Mound.
Tarwater added that sometimes his escapades ended with him getting stitched-up by William "Doc" Wilkerson, the town's second mayor. Another area family also felt a special appreciation for the land north of Grapevine Lake. Peter Pauls Stewart saw the development potential of the land overlooking the lake during a dove hunt. He knew that the then newly-constructed DFW airport would impact the surrounding North Texas region and envisioned a luxury hotel overlooking the lake.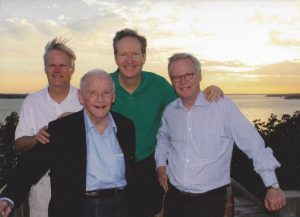 Stewart began purchasing the first tracts of land near the lake in May 1973 and spent the next 21-years accumulating what is now the 150-acre mixed-use development, Lakeside DFW. He was also aware that the existing two-lane dam road, which was the only access up to Flower Mound at that time, would not be able to handle the resulting future traffic that comes with growth.
Following the area's devastating flood in 1981, a fly-over of Hwy 121 and the southern area of Flower Mound led Stewart to hire Roy Wilsire of Kimley-Horn to design what would become FM 2499. Teaming-up with "Doc" Wilkerson, Stewart set out to create the road in a joint effort with Denton and Tarrant Counties, TxDOT, plus the communities of both Flower Mound and Grapevine. The two men convinced all of the landowners to dedicate their acres to the construction of FM 2499, which was completed in the early 1990s — when the town's population jumped to 15,896 from just 4,401 residents in 1980.
"By 1984, the last member of our 'pioneering ancestors' still living in the family home was my mother," said Tarwater, who spent the majority of his career working in Springfield, Missouri. "Over the years, Mr. Stewart had made known to our family his desire to buy the land and his vision for it. He'd guaranteed that his financial offer — when the time came to sell the property—would be generous; he was as good as his word … and my mother transferred the final 14-acres to him."
That final 14-acre parcel of the 25-acre peninsula allowed Stewart to gain approval in 1986 for planned development of approximately 6-million square feet of high-rise commercial offices overlooking Grapevine Lake.
"It took 18 years, though, to get the mixed-use zoning needed for the development of a hotel as part of the Lakeside DFW area," said Alan Stewart, son of Peter Pauls and Betty May Stewart, and general partner of Sunset Legacy, LP, which represents the family interests. He added that the genesis for his father's vision of a luxury hotel on the peninsula came because of the lake itself.
"Grapevine Lake is unique, because it runs east-and-west, unlike other north Texas lakes that run north-and-south," said Stewart. "That means that the nine-mile length of the lake is a perfect reflection of Texas' spectacular sunsets. In fact, the meticulous design of the all-glass, see-through lobby guarantees a view of the lake when driving up to the entrance. The fact that the hotel will be on a peninsula with a 270-degree view of both sunrises and sunsets dictated the 11-stories of rooms with glass balconies design."
Although Tarwater had negotiated the sale of family land in 1984 with Peter Pauls Stewart, he hadn't met Alan.
"When I finally moved back to Texas after so many years in Springfield, I hadn't been to our family home for a long time," said Tarwater. "I just happened to drive by the property one day and noticed that the gate was open. There were all kinds of 'no trespassing' signs and such, but I thought that if I got caught, I'd be able to explain myself and not get arrested.
"Sure enough, as soon as I stopped the car, a man walked up to see why I was there … and it was Alan with his wife, Kathy. I immediately called my wife, Donna, to come over as soon as possible and that's how we all met."
He added that after developing more than 40 resorts and hotels across as many states, the opportunity to bring a unique, luxury hotel that honors the community's heritage, along with creating a premier international destination for guests and locals to experience, is very significant to him. As the two men talked, Tarwater asked Stewart about his father's vision of making the hotel more than just a business investment.
"My father wanted to leave a legacy for people to love for generations," said Stewart. "We are thrilled that Scott Tarwater, partner and president of DFW TX-based New Era Hotels & Resorts, will lead the development effort, since he sold the property to our family."
In an effort to create a municipal harmony for the project, Tarwater called an old friend for an unusual joint community meet and greet lunch.
"I've known [Grapevine Mayor William] Bill Tate for more than 40-years and I called him up to get his city manager and staff folks to see how the project will enhance Grapevine's Rock Ledge Park and also get to talk with [Mayor] Tom Hayden, Jimmy Stathatos and other Flower Mound staff in a relaxed, unofficial setting held in the family home," said Tarwater. "It was a great get-together with open-minds and good will. Everyone could see how the hotel will benefit the entire area."
While the original date to break ground was set for July 2016, Tarwater said that progress with the town has been so smooth, that event will likely happen months sooner.
"We're finalizing the design of utilities and other infrastructure details with the Flower Mound town engineers, who are the highest level professionals," he said.
Stewart said that the Pearl on the Peninsula will be just like its name—a rare jewel.
Visitors to the hotel will view sunsets overlooking Betty May Bay, named in honor of Peter Pauls wife, while standing on Tarwater's former property.
"Over 30 years ago, my father envisioned an international hotel overlooking the lake to compliment the new DFW International Airport," said Stewart. "The hotel will be only 12-minutes and two stop lights from the international terminal doors. Our family is thrilled that he will see this dream come true right before his 95th birthday."
For more information and design renderings, visit: newerahotelsandresorts.com