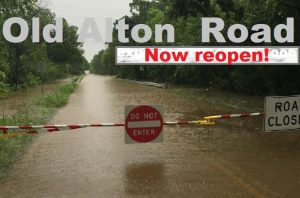 UPDATE: The entire portion of Old Alton Road that was closed due to flooding has been reopened, according to the Argyle Fire District.
UPDATE: According to a tweet by the Argyle Fire District, Old Alton Road and Copper Canyon Road has been reopened to traffic. Stay tuned for more updates.
Old Alton Road will likely reopen within the next few hours between Hickory Hill/Copper Canyon and FM 2181.
This part of the road has been closed since late May due to flood water from Lake Lewisville.
According to the Denton County Public Works department, workers are fixing damaged portions of the road and expect to have it back open within the next few hours.
Debris is being swept off the road by county crews and will be further inspected for damages as repairs are made.
The road was initially expected to be reopen on June 25.
"If everything is in order it will open and continue to be monitored once traffic is on it," said county commissioner Andy Eads (Pct. 4) in a Facebook post today.
At the onset of the flooding, there was about two feet of water covering the road.
Old Alton sits in the floodplain of Lake Lewisville and serves as a vital link between the Lantana/Copper Canyon and Corinth/Denton areas. Hundreds of students and parents use the road daily to commute to Guyer High School on FM 2181.
The CTG will keep you updated as we learn more.