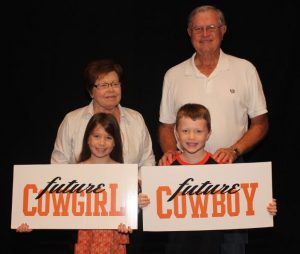 The Neill family of Flower Mound were participants in Grandparent University 2015 last month at Oklahoma State University.
Grandparent University is hosted by the OSU Alumni Association and brought 560 legacies and grandparents to Stillwater, Oklahoma in June. While on campus, they attended classes taught by OSU faculty and staff, stayed in student housing, dined on campus and enjoyed the life of average college students.
From Flower Mound were Addison, Spencer and Preston Neill, the children of Scott and Stephanie Neill. Addison went with her grandmother Connie Stiegler of Stillwater; Spencer and Preston attended with their grandfather Jim Stiegler.
The children and their grandparents were enrolled in one of 26 majors:  aerospace, agribusiness, architecture, athletic training, aviation, broadcasting, chemistry I and II, digital media, education I and II, electrical engineering, entomology I and II, firefighter 101, horticulture I and II, landscape architecture, molecular world building, Oklahoma geology, saving the earth, sports marketing, strategic communications, veterinary medicine, videography, watchmaking and what's to eat.
Addison and Connie majored in "What's to Eat." Spencer and Jim majored in "Oklahoma Geology," while Preston and Jim majored in "Chemistry Fun."
Under the instruction of OSU professors, the students learned about their major and participated in a variety of activities.  Depending on their chosen major, students took part in designing a city, planning and carrying out a flight plan, designing and creating a logo, planting a garden, and learning how to motorize a boat.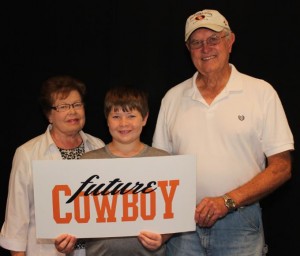 Upon completing their assignments, the legacies received a graduation certificate for all their hard work as college students during their stay at Grandparent University. Along with the activities in the classroom, there was time to socialize while picnicking by Old Central, swimming at the Colvin Center or cheering at a tailgate with OSU student athletes.
This was the 13th year for OSU's Grandparent University, which has hosted more than 4,000 participants since 2003.
The 2015 event hosted participants from 23 states spanning the continental United States. GPU also received the 2010 Circle of Excellence Gold Award from the Council for Advancement and Support of Education – the highest honor bestowed by the national organization representing more than 3,400 educational institutions and nonprofits in 68 countries.
The Legacy Program is open to any child between the ages of 0-18 years with a parent or grandparent who is an active member of the OSU Alumni Association.