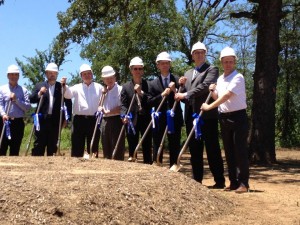 For the first time ever in the history of Flower Mound, officials and supporters broke ground on a place where outsiders can stay and locals can host family and friends.
The five-story Courtyard by Marriott at the River Walk at Central Park will have 146 rooms, 39 with balconies. It will also include a three-story atrium and will be right next to planned shops and restaurants.
"I know this is going to bring economic growth and prosperity," said Julie Meyer, chairman of the Flower Mound Chamber of Commerce.
In partnership with DePalma Hotels & Resorts, Rainier Medical Investments plans to develop the upscale, select-service hotel in addition to 6,000 square feet of meeting space, officials told council members at the Dec. 1 town council meeting.
It will also feature a restaurant and bar, pool, exercise room, an outdoor seating area, and multiple fire pits.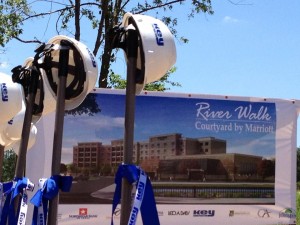 Town officials approved a Chapter 380 Agreement for the hotel in October, offering a range of incentives including: an 8-year 100 percent hotel occupancy tax rebate; a seven year, 75 percent real and business personal property tax rebate; a 7-year, 50 percent sales tax rebate of the town's 1 percent general fund portion; a 50 percent sales tax rebate of the town's 1 percent general fund portion for initial construction purchases;  a waiver from all impact and permit fees; and $1 million from the Tax Increment Reinvestment Zone No. 1 (TIRZ) for a parking structure.
"What a great day to be in Flower Mound," said Bobbie Mitchell, Denton County Pct. 3 Commissioner. "This celebrates a visible beginning of a new milestone for the Town of Flower Mound."
The town has about 70,000 residents but has never had a place to house guests from outside the area.
Among others at the groundbreaking were L. Scott Tarwater, executive vice president of hotel development with DePalma, Denton County Commissioner Andy Eads (Pct. 4), Flower Mound Town councilmen Steve Dixon and Kevin Bryant and Mayor Tom Hayden.
Restaurants will fill in some of the River Walk at Central Park development, of which the Courtyard is part. Some of them are Sfuzzi, an Italian restaurant, and Primo's Tex-Mex Grille. There have also been talks with Steel Restaurant and Lounge, which offers Japanese & Indo-Chine cuisine.
Construction of the development is at full swing as crews continue to lay the foundation for what some call one of the town's main destination points between Morriss and Long Prairie roads just north of Cross Timbers Road.
The Marriott should be completed in the second quarter of 2016.
"Everyone's done a tremendous job," Hayden said, specifically thanking Mark Wood, the town's economic development director. "He has really helped to change the reputation and attitude toward Flower Mound."