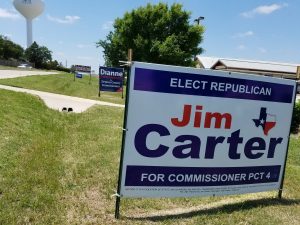 Early voting for five primary runoff elections in southern Denton County begins on Monday.
Races headed to a runoff include: County Commissioner Precinct 4 (R), District Clerk (R), Justice of the Peace Precinct 3 (R), Justice of the Peace Precinct 4 (R), and State Representative District 64 (D).
Jim Carter and Dianne Edmondson will face each other in the Precinct 4 Commissioner runoff.
Edmondson led the Denton County Republican Party for 14 years prior to retiring in 2016. Carter served as Precinct 4 Commissioner from 1999 to 2006 and is backed by outgoing Precinct 4 Commissioner Andy Eads, who is running for County Judge.
James Kerbow and Bill Lawrence will face-off in the Justice of the Peace, Precinct 3 runoff while Don Cartwright and Harris Hughey are meeting in the runoff for Justice of the Peace, Precinct 4.
David Trantham and Mark Yarbrough will meet again in the runoff for District Clerk.
Mat Pruneda and Andrew Morris are vying for the Texas House District 64 Democratic nomination. Democrats will also choose a nominee to face Gov. Greg Abbott this November.
Early voting for the primary runoffs will take place from May 14 through May 18. Election Day is Tuesday, May 22.
If you voted in a party primary, you're eligible to vote in that primary's runoff. If you haven't participated in a party's primary or convention this year — you can vote in any party's primary runoff election as long as you're registered to vote for that race, according to the Texas Election Code.
See sample ballots and find your polling location at votedenton.com.