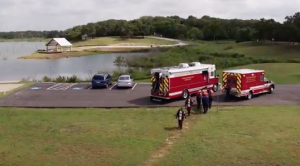 The search for a possible drowning victim on Lake Grapevine will resume this morning.
Investigators said a man around 40-years-old in a pontoon boat with his friends either jumped or fell into the water and did not resurface. He was not wearing a life jacket.
The incident occurred just after 2 p.m. Saturday afternoon on the north side of the lake near Bolo Point off of High Road in Flower Mound.
Crews from the Flower Mound Fire Department, Grapevine Police Department, Grapevine Dive Team and the Texas Game Warden are assisting with the search.
Check back for updates.