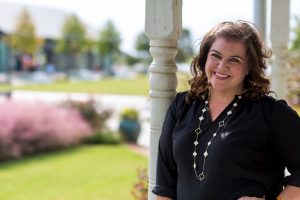 Doing life in a community like Harvest can impact you in ways you couldn't imagine. We have created a culture where neighbors not only know each other but walk alongside each other in good and bad times. They care for one another in ways that an outsider looking in can't comprehend.
We were most recently reminded of this through the Adams family. John, Michell, and their two children Sam and Sophie moved to Harvest in September 2016. The family quickly adapted into the Harvest family. Sam is often found riding his bike around Harvest hunting for spiders or talking to the Northlake Police officers…his hero is Officer Cody Long. Sam wants to grow up and be an officer just like him.
One evening, we learned that John was battling cancer. As with any family, this news is not easy to hear. Their family did what others would do, fight. Through the ups and downs, the Harvest family surrounded the Adams and cared for them like they had been friends for years.
Michell and John joined the Harvest Cancer Support Group that was started by Kristi Sanders, a cancer survivor and Harvest neighbor. What the Adams family quickly learned was that they were not alone in this battle.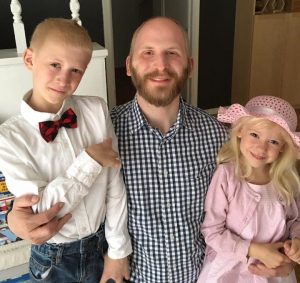 "John, the kids and I would not have been able to properly function over the past 14 months if we had not had help from our Harvest family. There have been continuous daily check-ins, meals, help with our house, prayers, gifts, love and they even sang Christmas carols at our home. I am extremely grateful for the love shown to us. I have never lived in a place with such a sense of community and family," says Michell.
In November 2017, John's doctors informed the family he didn't have much time left. Michell wanted to celebrate Christmas early so his young children could have their last Christmas with their daddy. When Michell's neighbors heard this, they went to work. Neighbors hired a house cleaner while others gathered at Michell's house to decorate the inside and outside for a Thanksgiving Christmas. The Northlake Police Department along with Harvest neighbors bought the children gifts. We even had Santa Claus stop by their house with gifts.
Many of these neighbors have never even met the family but wanted to help. Michell said "…the love, care, generosity, and grace for our family has been an unspeakable blessing for us." Life is a precious gift and we are not promised tomorrow. Each day that went by was another day, a gift that Michell and her children could spend with John.
On April 14, 2018, John passed away in the arms of his family at home. John fought a valiant battle against cancer. He was a beloved husband, father, son, brother, cousin, and neighbor. We were honored to have met John and to see the Harvest family care and support his family. The road ahead is not an easy one, but the Harvest family will be there every step of the way to care and support the Adams. #HarvestBetterTogether