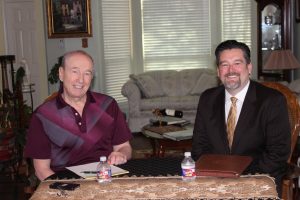 How much do you know about the duties of the Denton County District Clerk? If you're like most people, including me, you know very little and may not even know it's an elective office that carries a four-year term.
The principle function of the District Clerk is to support the district courts. The Clerk is registrar, recorder and custodian of all court pleadings, instruments and papers that are part of any cause of action in any civil or criminal district court. The current Clerk is Sherri Adelstein and her term expires in 2018. Ms. Adelstein is not running for reelection.
Mark Yarbrough, who is Adelstein's Chief Deputy Clerk, is running for District Clerk in next year's election. In the accompanying video Mark talks about the duties of the Clerk and why he's running for the job. The following info was received from Mr. Yarbrough.
"Mark was born in Memphis, TN. in 1969, moved to Overland Park, KS in 1977, and from there, moved to Carrollton, Texas (Denton County) in 1979 with his parents, older sister and younger brother. Mark attended Newman Smith High School, Brookhaven Community College, and Dallas Baptist University.  Mark's wide array of business titles throughout his career includes:  Banker, Multiple-Franchise Owner, Marketing Director, Regional Manager, Business Manager, Executive Director and most recently, Chief Deputy District Clerk of Denton County.
"He began serving his community by volunteering for fundraisers with the Downtown Carrollton Association, City of Carrollton Parks & Recreation, and through mentoring programs within the schools, just to name a few.  Mark is passionate about the needs of the community and has served as President of the Board of Directors of The Advocacy and Pregnancy Center in Lewisville, as an Ambassador for the North Texas Food Bank and for Food Pantries and Clothes Closets in the Metroplex.
"Currently, he is serving on the Board of the A.W. Perry Museum Society in Carrollton.  Mark has been an active member of First Baptist Church Carrollton since 1985, and served in various volunteer capacities within missions and children's education. Mark, his wife Heather and their daughter Ava, currently resides in Mark's hometown of Carrollton in Denton County."
Bob Weir is a former NYPD officer, long-time Flower Mound resident and former local newspaper editor.