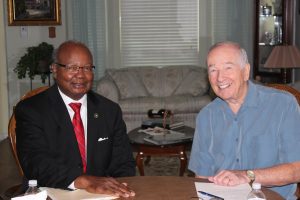 During the past two decades in North Texas I've been privileged to meet many people who stand out because of their admirable character traits and their dedication to public service. These are people who have added their considerable talent to the body-politic of their communities, helping to make life more comfortable for residents, many of whom never have any involvement in local issues. Without those public servants donating their time and energy to manage the civic affairs of towns and cities, we might not be nearly as happy and secure in our surroundings.
One of those aforementioned community leaders is Bill Lawrence, an attorney who has worked in many capacities over the years, including as a consultant in dispute mediation.
Recently, the former Councilman and three-term Mayor of Highland Village announced his intention to seek the Republican nomination for Justice of the Peace in Precinct 3 in the March 2018 Primary. The current JP, Becky Kerbow, who has served with distinction since 1999, has decided not to run for another term.
Mr. Lawrence is soft-spoken, but maybe that's because his record of achievement speaks loud and clear. The Vietnam veteran and retired United States Air Force Reserve Colonel began his military career at an Indiana Air Force base. After eight years of active duty and 22 years in the Reserves, working with the 305th Air Refuel and Wing Tactical Division, among other assignments, he retired from the military in 2005.
During his service in Southeast Asia he lived in Thailand for a year, where he was in computer operations for the USAF. His educational background includes a bachelor's degree from Tuskegee University, an MPA from St. Mary's and a law degree from Indiana University. Along the way, he served two years in the Army ROTC in college and two years in the Air Force ROTC. Colonel Lawrence says one of his proudest moments in the military was when he had the honor of being "pinned" as a 2nd Lieutenant by the famous General Daniel "Chappy" James, one of the illustrious "Tuskegee Airmen," and the first African-American to reach the rank of Four-Star General.
Bill and his wife Grace are Highland Village residents for 34 years and have three children and four grandchildren. In the video, Mr. Lawrence talks about the duties of the Justice of the Peace position and his reasons for running for the office.
Bob Weir is a former NYPD officer, long-time Flower Mound resident and former local newspaper editor.