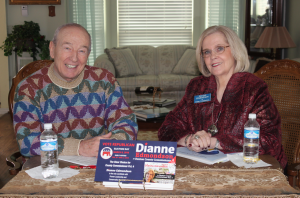 In one of the most sought-after elective office positions in the county, that of Denton County Commissioner in precinct 4, there are 4 Republicans campaigning for the GOP nomination in the primary election on March 6. Jim Carter, Brenda Latham and Itamar Gelbman have already been interviewed during the past few weeks. During my current interview, former Denton County GOP Chairman Dianne Edmondson tells voters why she's running for the coveted office and how her conservative credentials make her the best candidate. Speaking of credentials, Ms. Edmondson has been endorsed by Denton County Sheriff Tracy Murphree.
"Dianne Edmondson has been on the front lines of conservative issues for many years. Dianne is a staunch supporter of Law Enforcement and understands the challenges Law Enforcement will face in the future. It's important that my office works hand in hand with Commissioners Court to ensure the safety and security of Denton County citizens. I know I can count on Dianne. I support Dianne in her desire to be County Commissioner Pct.4 and look forward to working with her and our new county Judge Andy Eads for years to come," Sheriff Murphree said. The foregoing and following information was taken from Ms. Edmondson's campaign website: www.dianne4commissioner4.com
"Dianne Edmondson is a seasoned business entrepreneur, community leader and political activist with broad-based experience and knowledge, coupled with a passion for public service. She is a well-respected grassroots Constitutional conservative who led the Denton County Republican Party for 14 years prior to retiring in 2016. During her tenure, Denton County was widely recognized as an example of a well-run, reliably-red county which would deliver net Republican votes to offset up to a dozen Democrat counties in state-wide races. Dianne has built good relationships with our County elected officials, as well as many State wide elected officials and also with surrounding counties' Republicans. She has testified before the State Legislature and works well with the county's legislative delegation.
"Due to Denton County's enviable Republican record, Dianne was tapped by the State GOP and the Republican County Chair Association to help mentor and train other County Chairs. She also has attended three National GOP Conventions as a delegate or alternate, and has been a delegate to every State Convention since 1988, often chairing convention committees or caucuses. For several years, Dianne directed the Republican National Coalition for Life. Three times, she was selected by US Congressmen and a US Senator to participate in Republican Women Leadership seminars in Washington, D.C.
"Dianne and husband Bob founded and built a successful technical recruiting firm and she met frequently with high level executives from clients such as IBM, American Airlines, VISA, Manufacturers' Hanover Bank, etc. Retired since 2006 from that company, they enjoy life in Robson Ranch, where they are members of the Robson Gun Club and the Support Our Troops organization, as well as various Republican organizations. Always committed to helping grow the Republican Party, Dianne was selected as the Senate District 12 Director for the Texas Federation of Republican Women and promptly started three new clubs in the district. She continues to mentor Republicans who are new to the area and to the political process. (See the Political Leadership page for more details.)
"Urged by many Denton County Republicans to enter the Pct. 4 Commissioners' race, Dianne is familiar with the responsibilities that go with that job. She's been involved with the Commissioners for years, including being the Vice Chair of their Citizens' Budget Advisory committee, serving twice on the Commissioners' re-districting committee, and being appointed to the North Texas Workforce Commission. She has interfaced frequently with the Commissioners on issues such as re-districting, election issues and voting machines.
"Dianne's community involvement spans many years and leadership is her hallmark. (See the Community Leadership page for details.) She has proven leadership and demonstrated conservative principles. She will work tirelessly with the citizens and leaders of Pct. 4 to find the best solutions to the challenges our rapid growth brings. She will be a commissioner you can trust."
Bob Weir is a former NYPD officer, long-time Flower Mound resident and former local newspaper editor.