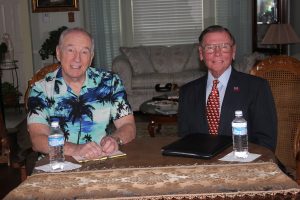 It was in 1876 that the Texas Constitution established the Justice of the Peace courts. The JPs are elected by voters in their precincts to four-year terms. The position is by political party designation, i.e. Republican, Democrat, etc., beginning with a race in the primary contest every four years and then on to the general election race in November. Qualifications include U.S. citizenship; 18 years of age; resident of Texas for one year and six months residence in the precinct candidate is running; no felonies on candidates' record; and not determined mentally incompetent by a court. Salaries of JPs are set by the Commissioners Court.
Don Cartwright is a Denton attorney with many years of experience in several areas of the justice system. He's been on the prosecution side and the defense side, providing him with a balanced approach to courtroom trials and procedures. In addition, Mr. Cartwright is a former three-term Texas State Representative. He is running in the March 2018 primary for the Republican nomination for Justice of the Peace in Precinct 4. Judge Jay Hand, the incumbent JP in Pct. 4, has not yet announced if he'll be running for a fourth term. Cartwright is financing his own campaign and will be campaigning actively throughout Precinct 4, which covers a large section of Denton County. The following is from Don Cartwright's campaign flyer.
"I am a conservative Republican, former conservative Texas State Representative and attorney with decades of practical, courtroom experience, asking for your support and vote for Justice of the Peace. I have the experience to get decisions correct the first time and save taxpayers' dollars! With over 400 cases appointed here in Denton as well as decades of legal work, I know I can apply conservative Republican principles to the management of your Justice of the Peace office. Please vote for me, Don Cartwright, in the 2018 Republican Primary and I'll serve you with ethical, proven leadership. Again, please join the Don Cartwright for Justice of the Peace campaign!" In the video interview Don talks about his reasons for running and much more!
Bob Weir is a former NYPD officer, long-time Flower Mound resident and former local newspaper editor.