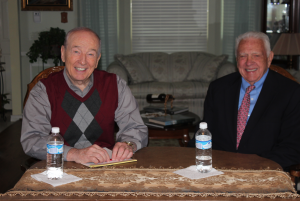 When a seat on the Denton County Commissioners Court opens you can be sure a lot of people will be interested in running for that important position. With Precinct 4 Commissioner Andy Eads running for County Judge to replace the retiring Judge Mary Horn, there are no less than 5 hats tossed into the proverbial ring to vie for that seat. Four candidates will be running for the Republican nomination in the primary on March 6. The fifth candidate, Bryan Webb, who has been on the Flower Mound Town Council since 2012, will be the Democrat nominee. The other 4 candidates, all Republicans, are Brenda Latham, Itamar Gelbman, Jim Carter and Dianne Edmondson.
Today's interview subject is Jim Carter, the former commissioner of the Precinct 4 seat, who held it from 1999 until 2006 when he was unseated by Mr. Eads, who has held it since then. Before becoming a Denton County Commissioner, Carter was instrumental in working toward incorporating the town of Trophy Club. He also served as its first mayor from 1985 to 1999. Since leaving the Commissioner's Court, Carter has performed work as a consultant. In the video, Mr. Carter talks about his reasons for running for his old job and his vision for the future of the county.
If you're a resident of precinct 4, you live in the western part of Denton County, which includes Argyle, Bartonville, Copper Canyon, Denton, Dish, Double Oak, Draper, Flower Mound, Haslet, Justin, Krum, Lantana, Northlake, Ponder, Roanoke, Robson Ranch, Southlake, Trophy Club, Westlake and unincorporated areas of Denton County. For more info please refer to Mr. Carter's website at www.votecarterpct4.com and his Facebook link, @votecarterpct4.
Bob Weir is a former NYPD officer, long-time Flower Mound resident and former local newspaper editor.