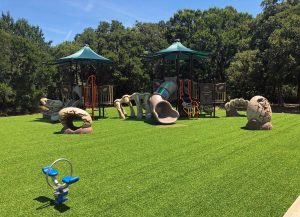 The town of Flower Mound has completed its upgrades to the playground at Thrush Park, adding a dinosaur theme sure to be a crowd-pleaser.
The playground nearly doubled in size with the upgrade and is now home to a dinosaur-themed playground and a new shaded play structure for 2-12 year olds, and another for 5-12 year olds, according to a news release from the town of Flower Mound. Park-goers can also enjoy a see-saw, dinosaur eggs, swings, grass-like synthetic turf, and "Biba," a digital game that can be installed on your smart phone.
Thrush Park, 950 Sun Ridge Drive, joins many other parks in Flower Mound with new fun themes, such as Wild West, Fire/Rescue and locomotives.
Click here for more information about this park and the others in Flower Mound.