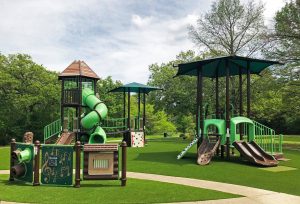 The "TREE-mendous" upgrades to Stone Creek Park are complete, according to the town of Flower Mound.
The park, 1400 Fuqua Drive, is now home to a treehouse-themed playground with a new umbrella-shaded play structure for 2-5 year olds, and another for 5-12 year olds. Park-goers will also enjoy a seesaw, music panels, swings, benches and green grass-like synthetic turf, according to the town.
For the first time at a Flower Mound park, the community can enjoy playing "Biba," a digital game you can install on your smart phone. Through multiple scenarios on the Biba app, kids can explore the playground equipment and use their imagination to complete various tasks. Directions for how to use Biba are posted at the park.