The town of Flower Mound is continuing its trend of renovating park playgrounds and giving them a theme in the process.
After Kari Biddix became Park Development Manager of Flower Mound about four years ago, she wanted to bring a fun idea she got from her last job in Elk Grove, California.
"At my previous employment, we themed all of our new parks and playgrounds, and it was very well received there so I decided to carry on that idea to Flower Mound," Biddix said.
None of Flower Mound's older playgrounds have themes, but when they get renovated, Biddix's team is planning to give them new equipment, surfacing and a theme that kids will enjoy.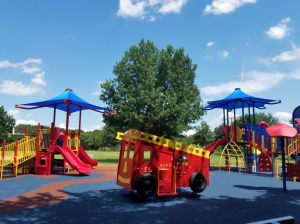 Playgrounds at six different parks were funded to be renovated this fiscal year, Biddix said, and each got a unique makeover. Gaston Park's playground is now a Fire/Rescue playground, Grove Park's has a ship theme, and Glenwick Park is now locomotive-themed.
Spring Meadow Park's playground, expected to be completed by next week, will have a Wild West themed. Oak Park's playground will have a police theme and Bluebonnet Park's playground will have a wildflower theme, with an emphasis on bluebonnets, when they are completed by early spring.
Design will begin next year for the playgrounds at Lakewood, Stone Creek, Thrush West and Gerault Parks, Biddix said.
"We have received very positive feedback," Biddix said, so the town plans to theme all future playground renovations.