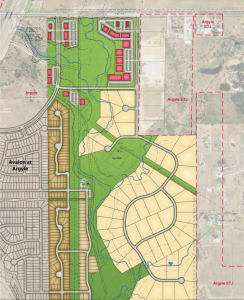 The Argyle Town Council denied with prejudice a developer's proposal last week for a multi-use development proposal in west Argyle.
The first section of Avalon at Argyle was approved by Argyle Town Council last year. Located southeast of the Interstate 35W interchange with FM 407, that first section will have commercial and retail space along the I-35W access road and 334 residential lots on 134 acres.
Now, Centurion American Acquisitions and G&A Consultants want to develop the 270 acres adjacent to the eastern edge of that approved development with 223 residential lots and 24 acres of commercial space. It was strongly opposed by dozens of residents at multiple meetings. The property is currently zoned commercial/retail, so the developer needed Council to approve a zoning change.
But the applicant had requested town to table the request until January, after the Planning & Zoning Commission recommended denial of the development in early November.
The town declined to table it after Council member Jon Donahue said during the Nov. 28 council meeting that he attended the PACE meeting and P&Z meeting and he "didn't hear any of our residents that were in favor of this development."
"I'm not sure we need to put our citizens through this again," he said. "I'd like to go ahead and vote on it tonight."
After one resident spoke against the plan, council discussed the proposal. Mayor Donald Moser even said the developer used "deceptive information" while trying to squash residents' worries in the PACE meeting.
"I don't really appreciate them bringing that to our citizens," Moser said. "Some of the information they tried to put out in the PACE meeting was from a TxDOT meeting that myself and Matt (Jones, town manager) had been in that day, and they were skewing the numbers from what TxDOT themselves had told us."
The entire council voted to deny the proposal "with prejudice," meaning the applicant can't bring back the same request within the next year.
An outspoken group of Argyle residents said they moved to live in Argyle because it is a rural town with lots of open space, trees and horses. Many said they don't want to see Argyle become a dense suburb like many other cities around Dallas-Fort Worth. Some said they also worry that the town's infrastructure, particularly its roads, aren't equipped for large increases in the town's population.
Traffic is already problematic on FM 407 in Argyle, particularly the two-mile stretch sandwiched between I-35W to the west and train tracks and Hwy 377 to the east. People who live in and around Argyle — including the rapidly growing Northlake area — use the two-lane thoroughfare daily, and when a train comes through at high-traffic times, traffic backs up for miles. Many residents want to see little development in that section, but multiple residential developments have already been approved in the last few years along or near FM 407.