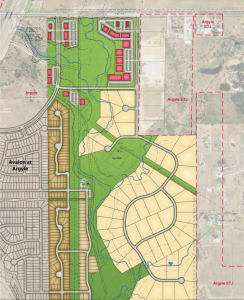 Argyle Planning & Zoning Commissioners voted 6-1 Tuesday to recommend that Argyle Town Council denies a multi-use development proposal for west Argyle.
The first section of Avalon at Argyle was approved by Argyle Town Council last year. Located southeast of the Interstate 35W interchange with FM 407, that first section will have commercial and retail space along the I-35W access road and 334 residential lots on 134 acres.
In February, Centurion American Acquisitions brought a development proposal to Town Council for 430 acres on the eastern edge of the property that was approved in 2016. It would have put an additional 700 residential lots and more commercial buildings on the property, but council denied the zoning request after hearing from many Argyle residents speak against the development.
Centurion and G&A Consultants then created a new plan with fewer, larger residential lots and presented it to residents a couple weeks ago in an optional, informal PACE meeting. That plan took a smaller portion of the land — 270 acres — and put 231 residential lots and 24 acres of commercial space on it. It was met with negative comments from the dozens of residents in attendance.
After that meeting, the plan was revised a bit to widen some of the smaller residential lots, dropping the number of residential lots to 223.
Many residents spoke against the proposed development at the P&Z meeting Tuesday. An outspoken group of Argyle residents said they moved to live in Argyle because it is a rural town with lots of open space, trees and horses. Many said they don't want to see Argyle become a dense suburb like many other cities around Dallas-Fort Worth. Some said they also worry that the town's infrastructure, particularly its roads, aren't equipped for large increases in the town's population.
Traffic is already problematic on FM 407 in Argyle, particularly the two-mile stretch sandwiched between I-35W to the west and train tracks and Hwy 377 to the east. People who live in and around Argyle — including the rapidly growing Northlake area — use the two-lane thoroughfare daily, and when a train comes through at high-traffic times, traffic backs up for miles. Many residents want to see little development in that section, but multiple residential developments have already been approved in the last few years along or near FM 407.
After about an hour-and-a-half of public comments and discussion Tuesday night, the commission voted 6-1 to recommend denial of the proposal. Centurion may choose to take it to Town Council for approval, or it may revise the plan and re-start the process again.