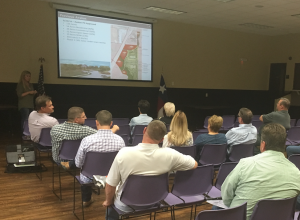 The developing company for the future Avalon community in Argyle presented its development plans to residents, answered questions and addressed concerns on Thursday night.
The first section of Avalon at Argyle was approved by Argyle Town Council last year. Located southeast of the Interstate 35W interchange with FM 407, that first section will have commercial and retail space along the I-35W access road and 334 residential lots on 134 acres. The developer also owns hundreds of acres adjacent to that first section.
In February, Centurion American Acquisitions brought a development proposal for 430 adjacent acres to Argyle Town Council that would have put an additional 700 residential lots and more commercial buildings in the area, but council denied the zoning request after hearing from many Argyle residents speak against the development.
An outspoken group of Argyle residents say they want to live in Argyle because it is a rural town with lots of open space, trees and horses. They don't want to see Argyle become a dense suburb like many other cities around Dallas-Fort Worth, and they also worry that the town's infrastructure, particularly its roads, aren't equipped for large increases in the town's population.
On Thursday night, Centurion presented its revised development plan for its second section of Avalon during an optional Program for Argyle Community Engagement meeting, an informal meeting run by the developer.
Centurion took a smaller tract of land — 270 acres — and put 231 residential lots and 24 acres of commercial space on it. Centurion replaced 169 smaller lots from its first plan on the eastern side of the land to 54 lots with an average size of 1.92 acres per lot. Along the western side, there are 178 lots with a minimum lot size of 6,000 square feet in the proposed plan.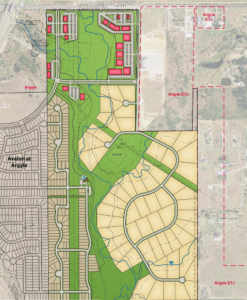 About half of the land is not able to be developed because of easements and a flood plain, according to Centurion.
When asked about those smaller lots, and why couldn't they be larger and intended for a high-end market, Centurion owner Mehrdad Moayedi said that because of its proximity to I-35W and some large power lines that run through the property, it would be tough to sell large lots and high-end homes there. On the western side, those lots are far enough away from the power lines and I-35W, he said.
Moayedi also said he's willing to consider widening the smaller lots from about 50 feet to 60 feet. Throughout the meeting, he encouraged feedback and said he wanted to create a plan that residents would find acceptable.
The new proposed plan would reduce traffic by 39 percent from the plan that was denied in February, according to Centurion.
About two dozen residents attended the PACE meeting Thursday, far fewer than the group of about 90 attended the last PACE meeting during the summer for the proposed Lochlan of Argyle plan.