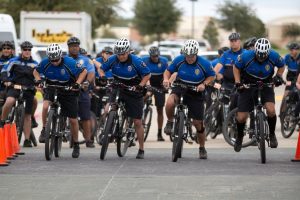 The city of Highland Village is making final preparations ahead of its 10th annual Fallen Officers Bike Race and 5K on Saturday.
The all-day event and fundraiser will take place at the Shops at Highland Village and will feature live music, demonstrations, raffle prizes, a silent auction, kids zone and food and drinks.
The main events, though, are the 5K, the civilian bike race and the police team bike race. Click here to register; the deadline is around race time, according to the event website.
The event benefits the Texas Police Chiefs Association's Fallen Officer Fund, which provides monetary assistance to Texas families of fallen heroes within 24 hours following an officer's line of duty death. The Highland Village event has raised more than $150,000 for the Fallen Officer Fund since 2008, and organizers set a goal of $30,000 for this year.
If you are unable to participate in the races or visit the other activities, there are other ways to support the fundraiser. You can buy a #TxFallenOfficer shirt here, and you can bid on auction items here. Some of the auction items include getting your child a ride to school in a Highland Village police vehicle or fire truck.
Click here for more information about the event.