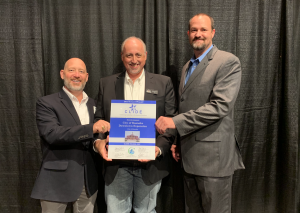 The city of Roanoke was recently presented with the Celebrating Leadership in Development Excellence (CLIDE) Award 2019 at the North Central Texas Council of Governments' (NTCCOG) annual General Assembly.
Awards were chosen for the following categories with an emphasis on the Principles of Development Excellence: New Development, Redevelopment, Special Development, Raising Public Awareness, and Public Policy and Planning. Roanoke was selected as the sole winner in the New Development category for the Roanoke Downtown Expansion, according to a news release from the city. This category recognizes developments that are constructed on previously undeveloped sites and that successfully exemplify many of the Principles of Development Excellence.
The CLIDE Awards Program was created to encourage development projects and practices that will help accommodate expected growth and ensure a sustainable North Texas for generations to come, according to the news release. The Center for Development Excellence — a program of the North Central Texas Council of Governments — invites public and private entities — including cities, developers, architects, planners, engineers and others — to submit applications for this prestigious regional award program. The awardees are selected by a panel of jurors, which composed of nationally respected professionals in the fields of architecture, planning, public policy and development.