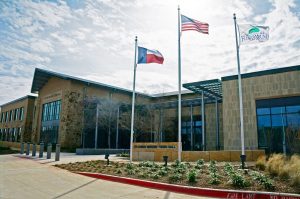 The first Town Council agenda item to address senior town residents was a 4-to-1 vote for a Master Plan Amendment to cancel the Senior Housing Overlay Master Plan Amendment passed on March 6, 2017. The Monday night vote ends the amendment nine-months earlier than its designated "sunset date" of March 6, 2020.
The purpose was to incentivize developers to bring in affordable senior housing projects with amenities on both sides of the FM 2499 corridor, from FM 407 down to north of the Lakeside Business District.
Proposed senior development within the district could be eligible for SMARTGrowth and park fee waivers, in exchange for upscale amenities. The developer could save time and money because a required Master Plan Amendment pre-approved by the council, plus a super-majority vote wouldn't be required.
"When the council established the Senior Overlay, it was to prioritize seniors and to help encourage developments that catered to seniors," wrote former mayor Tom Hayden in a statement prior to Monday's meeting. "To keep our parents and grandparents in our town and affordable housing is towards the top of the list."
New Council Member Jim Pierson said his main objection was with the term "affordable."
"The overlay has not fulfilled the intent," he said. "It led to developers to build less expensively."

During the lifetime of the overlay, two senior housing projects were approved– NEM Senior Living, with 183 units and Watermere, with 240 units. As of Monday, no applications for future senior developments within the overlay district have been submitted to town staff.
Mayor Pro Tem Jim Engle, who introduced the idea of ending the overlay before its scheduled sunset date, said a resident had: "Expressed concern that a vacant 8.5-acre tract near Gaston Park, which is close to his home, would be the site of a future senior rental multifamily complex."
Engle also pointed to Watermere developer, Paul Milosevich, saying in February that– in his opinion– the town shouldn't need additional independent senior rental living units for approximately five years.
Deputy Mayor Pro Tem Claudio Forest cast the sole vote in favor of allowing the senior overlay to reach its designated end date.
"Considering all the iterations it went through, we filled that vacuum that the overlay was for," he said. "To me, the 'sunset' is fair. We shouldn't change it midstream. We still have the option to say no."
At its May 13 meeting, the Planning & Zoning Commissioners voted unanimously to deny ending the Senior Overlay District earlier than March 6, 2020.
Community designer and landscape architect Heth Kendrick– who served on Planning & Zoning while Forest was its chair– said his firm is currently working with a developer for a senior housing project, but it's not yet at application stage.
Mayor Steve Dixon pointed out that since the town has set new land and park fee standards for multifamily residential developments, any future senior projects will be required to meet the new requirements.
"It (the amendments ending the Senior Overlay District Master Plan Amendment) only changes the Super Majority (council vote for approval) requirement," he said.
The next two agenda items– a Master Plan Amendment and rezoning request– for the Highland Pointe Park development– were postponed to a yet-to-be-set future date at the request of the property owner, Faith Lutheran Church.
So, that brought up a rezoning request and tree removal permit for Windhaven Senior Living (WSL) of Flower Mound, located at 3801 Cross Timbers (FM 1171). The current property use on the south side of the road is that of a mobile home park.
The proposed assisted living facility requested rezoning on the 4.4-acre parcel across from Bridlewood.
The site plan provides for four one-story, 12,000-square-foot, Tuscan-styled buildings, which will accommodate 64 assisted living units (16 units per building). Additionally, a 1,050-square-foot office is proposed for the northeast quadrant of the property. Excluding the office building and its parking area, the balance of improvements will be secured by fencing and gates with access for emergency services.
"WSL will seek to license the four residences under the Class B Small License with the Texas Department of Health and Human Services, which would allow placement of a maximum of 16 residents in each Resident Home," said Edward Sedacca, president of WSL. "We serve not only those residents needing memory car, but those who've had strokes, or with Parkinson's and other needs."
When Engle asked why WSL selected the narrow, 684-feet-deep property, Sedacca said it was specifically because of its location being nestled within the surrounding residential neighborhoods.
"The cottage-style assisted living model of WSL is to be that of a neighborhood with common areas to create a family atmosphere," said Sedacca. "That's why we offer a dining room, rather than a cafeteria and individual rooms are smaller; a larger room can lead to residents being isolated. It's been proven that socializing can help people live longer."
The tree removal permit for nine trees actually took more time than the rezoning request. The Environmental Conservation Commission recommended approval by a vote of 6-0 at its March 5, 2019, meeting.
Both of WSL requests and specific modifications were passed unanimously.
The final council agenda item was solely about trees– an application for a tree removal permit for ten specimen trees on property proposed for development as Toll Bother's Townlake Phase 4. The property is located south of FM 1171 and east of Flower Mound Road.
The developer pledged to try to save five of the trees, but their survival is questionable at best. Both James Hoefert, the environmental review analyst for the town and Ron Steward, a landscape architect with G&A McAdams said it's questionable whether the trees can be saved.
The permit was approved by a 3- to 2-vote; Baumgarner and Pierson were the dissenting votes.