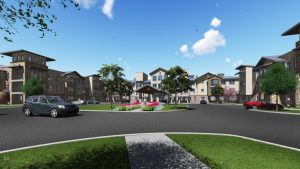 The Watermere at Flower Mound Senior Independent Living development got a unanimous welcome-to-town rezoning vote from Town Council on Monday night.
The development is located south of Dixon Road and east of Valley Creek Church at the intersection with Long Prairie Road (FM 2499).
The gated 15.8-acres independent living senior housing rental community is for residents aged 55-or-older.
Watermere will be the town's third independent living senior rental housing project– the second on the east side of Long Prairie Road, within the town's senior overlay. The area includes sites located 2,500-feet on either side of Long Prairie Road, from Justin Road (FM 407) down to the northern boundary of the Lakeside Business District.
"The overlay was a Master Plan Amendment," said former Council member Bryan Webb. "It [Watermere] meets the needs of their target clientele."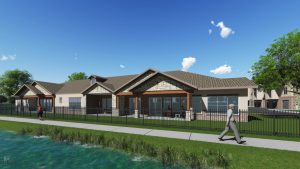 "It' a perfect place for seniors to stay in Flower Mound," said Denis Toth, longtime resident and former president of Seniors In Motion. "It's very relaxed with a lot of amenities. The senior overlay expires next year, so this may be the last chance."
Approved in March 2017, the Master Plan Amendment that created the overlay district for affordable, high-quality, senior housing options with quality amenities and services for residents 55-years-of-age or older is set to expire on March 6, 2020.
One public speaker, who's a realtor, tried to make the illogical point that the senior development shouldn't be built within the overlay, that the 15.8-acre project rezoning should not be approved until the remainder of the 98+-acres in the Whyburn Estate to its east and south are being developed– to date, none of those acres are even up for sale– and that the senior residents (mostly aged 78 to 82) will be a traffic impact on both Dixon and Long Prairie roads.
"I don't think we can punish a current project for future concerns," said Council member Kevin Bryant.
To which Council member Jason Webb added: "This is a community, not an apartment [complex]. The traffic concern for the senior community is a 'red herring.'"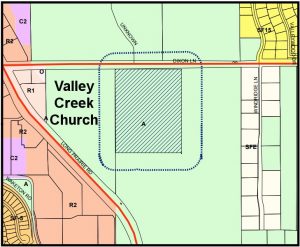 The concern over the impact on Dixon Road was also raised during the Planning and Zoning meeting a week earlier by Adam Schiestel, president of Waterford Park Estates, located to the east on the north side of Dixon Road. He voiced concern about the problem of drivers cutting-through the development from Dixon to access Justin Road (FM 407) to the north.
He also complained that the town protocol doesn't provide an option to discuss upcoming projects and their possible impacts on residents nearby, but farther than the required 200-feet.
In response, Mayor Steve Dixon requested town staff to investigate a path for residents to express concerns, such as the existing traffic issue in Waterford Park, prior to the P&Z public hearing level. During that meeting, P&Z Chairman Perfecto Solis had also requested town staff to address that development's traffic issue.
Dixon also said that driving was a topic he and his father discussed. He said that his father stayed to main arterials to avoid getting lost.
World War II veteran and Flower Mound's Veterans Liaison Doug Brown said: "We tend to stay on main roads so we don't get lost."
"Watermere has its own 12- to 14-rider van which goes out daily to restaurants, grocery stores, for medical appointments and the Senior Center and other places," said Paul Milosevich, chief investment officer of Integrated Senior Lifestyles, which runs Watermere and Watercrest projects across Texas. "A majority of our older residents no longer drive at all."
"We go out from 9 to 3 and then we hide." said Toth.
Council member Sandeep Sharma added: "Being a senior multi-family project, I'm not concerned about traffic."
Longtime resident Patsy Mazur also reminded the council members that Watermere will contribute more than $500,000 tax revenue to the Lewisville ISD, without adding to its student population.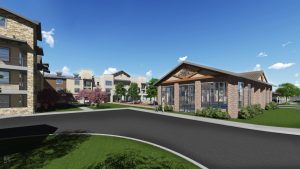 Watermere offers customizable lifestyle packages, which allow residents to fit specific needs, services and budgets. With choices in dining options, housekeeping and linen services, onsite storage spaces, garages and covered parking options, as well as one- two- or three-bedroom options in its 224-units, plus 14 single-family townhomes, the population of the age-55 and over residents is estimated to be 300-350 seniors. Rents will be in the $1,700-$3,000 range for the apartments and around $3,600 for the townhomes.
The Watermere project will be developed in two tracts with specific-use standards.
At the urging of town staff, Tract 1 is for a dedicated Office District of approximately 3.45-acres with three two-story buildings at the northwest side of the Whyburn Drive entrance to the project from Dixon Road.
Milosevich said including buildings for future medical office tenants, "had to do with [town] staff and the [senior overlay] Master Plan Amendment zoning." The office district is for zoning only and no construction is planned at this time.
The 12.3-acres Tract 2 is for multiple senior housing buildings. It consists of approximately 10.88-acres for the senior housing community and 1.42-acres of right-of-way dedicated to platting the construction of Whyburn Drive at the eastern border of the project.
The community amenities include: a clubhouse with game room and lounge area; a full-service dining room with 20- to 25- chef and service staff; a beauty salon; a dog park; landscaped resident pathways and covered parking areas; a detached, covered pool building with retractable glass doors for year-round use; and, access to an amenitized offsite retention pond. In addition, it will have two activity program staff members.
"All Watermere facilities include full kitchens with granite counters and luxury appliances," said Milosevich.
Naming the entry road Whyburn Drive is to honor the Whyburn family who's owned the full overlay 98+-acres since the 1880s.
"Over the past 10- to 15-years, I'm proud we've expanded our options, from the single-family 'nuclear' family," said Dixon.
Construction is tentatively set to begin at the end of 2019.