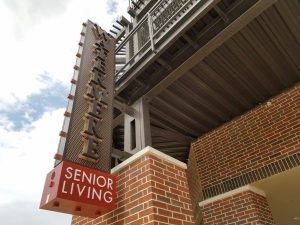 The pent-up demand for senior rental housing in Flower Mound is about to be addressed.
The builders of two area Watermere senior rental communities– in Southlake and Frisco– have submitted their third application for town staff's consideration.
"The town staff has been wonderful to work with," said Paul Milosevich, representing Watermere. "It's been a relatively smooth process, actually. The challenge has been to develop on a large, undeveloped parcel; just an open field."
If approved, Watermere at Flower Mound will sit on pastureland south of Dixon Road and east of FM 2499, just behind Valley Creek Church.
It will be within the town's new Senior Housing Overlay District that includes sites located 2,500 feet on either side of FM 2499 from FM 407 down to, but not including, the northern boundary of the Lakeside Business District.
The council already approved a Master Plan Amendment to create the overlay district to address demand for affordable, high-quality, senior housing options with quality amenities and services for people 55-years-of-age or older back on March 6, 2017.
"Watermere provided a bus tour of its Frisco facility to give the seniors of the Flower Mound Senior Center a good general idea of how the building will look as far as the architecture and quality of design back on July 18," said Milosevich. "The building in Flower Mound will be slightly different– due to Flower Mound regulations– and what the land will allow, from a space standpoint. We currently have no completion date set, because we are still going through the approval process. However, if all goes as planned, construction will start in 2019 and be completed in 2020."
The Watermere at Frisco campus received the award for 2018 Best 55+ Independent Living Community from the National Association of Home Builders'.
One of the positive items in favor of the Watermere location is that it has no impact on any single-family residents.
"One of the only disappointments I had while I was on [town] council, was not being able to vote for a senior rental facility; but, I did approve the Master Plan amendment," said former council member Bryan Webb.
He added that he doesn't anticipate rezoning problems for the project.
"We laid the groundwork and the framework for the development to move forward," Webb said. "There's enough room in the Flower Mound market for at least two, maybe more, new senior communities."
Watermere offers customizable lifestyle packages, which allow residents to fit specific needs, services and budgets. With choices in dining options, housekeeping and linen services, onsite storage spaces, garages and covered parking options, as well as one- two- or three-bedroom options in its 224-units, plus 14 single-family homes, the population of the age-62 and over residents is estimated to be 300-350 seniors.
Included in the upscale amenities are a community pool, a yoga facility, a variety of daily activities and the development is pet-friendly. Rents will be in the $1,700-$3,000 range for the apartments and around $3,600 for the townhomes.
"Although we serve both breakfast and lunch, restaurants in the area should start looking at offering 'early-bird' specials," chuckled Milosevich. "They'll also support shopping and medical outlets in the area."
The Watermere entrance is proposed to be a new street called Wyburn Drive, named for the family who's owned the land since the 1880's.
"We expect our zoning case to go before Planning and Zoning in October, then before Town Council in November," said Milosevich. "Even though we're not approved yet, we've secured our first residents– the Spraberrys. They have a daughter who lives in Flower Mound and her parents used to live in Lubbock. After they retired, she moved them up to our Frisco Watermere. When she heard we'd have a Flower Mound facility, she called and signed them up."
Another project targeting seniors down the road from Watermere is heading through the approval process.
Flower Mound's Planning and Zoning Commission last month recommended the Town Council approve a rezoning request by NE Development, LLC for its NEM Senior Living multi-family rental project. The apartments are proposed for 9.2-acres south of Rippy Road and east of FM 2499.
The project calls for 182-units in one four-story building and four two-story buildings with garages on the first floor. Approximately 65-percent of the units would be one-bedroom, with the rest being two- and three-bedroom units.
If approved, Watermere and NEM would join Overture in Lakeside DFW, which opened this year, and Pinewood Hills as Flower Mound's independent living rental options for seniors.