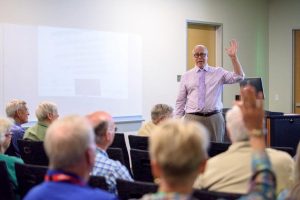 "Use it or lose it" is a frequently-heard nugget of advice; especially directed to AARP-aged folks.
So, Baby Boomer-aged– and even older– weekend warriors are out using their titanium hips and knees playing golf and pickleball and donning spandex uniforms (oh, dear) to peddle bikes on trails and roads– all in an attempt to firm-up or even regenerate their physical wellness.
Interestingly enough, however, at the top of many experts' "best activities" list for older people is dancing– especially salsa dancing. Why? Because its fast-pace is good cardio exercise, emphasizes using core muscles for balance and– equally important– it involves exercising the brain to learn and remember dance patterns.
Unfortunately, not everyone can step-up and turn into Carmen Miranda. Enter the Osher Lifelong Learning Institute, or OLLI, one of the best brain exercisers any brain can use.
OLLI is a learning program designed by and for adults aged 50 and older.
Its mission is to provide a lifelong learning program that fosters intellectual stimulation and social engagement through an extensive array of classroom and experiential learning opportunities. Classes are taught by university professors and area professionals.
"There are 120 national OLLI Programs and to have one at the University of North Texas (UNT) is very special," said Dr. Stephanie Reinke, director of the UNT OLLI Program. "Every OLLI Institute runs a little differently. The UNT OLLI program teaches at five different campuses– the Denton UNT, the new UNT-Frisco campus, the Flower Mound Senior Center (a $1 day-pass required if not a Seniors In Motion member), Robson Ranch and Lake Forest Village in Denton."
Robson Ranch is home to the program's largest satellite location. More than 200 Robson Ranch residents are already members of the OLLI program and the seniors in Flower Mound also represent a fast-growing membership.
"Classes are open to any OLLI member, not just Robson Ranch residents or Flower Mound Senior Center members," said Reinke. "Classes cover every possible genre you can imagine. They're lead by UNT faculty, ex-faculty members or experts [in an interest area] who teach their passions. For instance, we have a Chemistry professor whose passion is history. It's a great way to meet people who have the same interest in common."
Classes are 90-minutes long and range from one up to four-sessions long.
The Robson Ranch site offers a "Lunch & Learn" lecture series on Thursdays from 11:45 to 12:45 p.m. and the "OLLI After 5" series, which includes wine and cheese, on Tuesdays from 5:30 to 6:30 p.m.
"We are the best 'hidden value' in North Texas," said Reinke. "But, we don't want to remain hidden. People may think we only offer academic-based classes and that they won't be able to keep up or they'll be required to take tests– not so."
Examples offered during this month of September include: landscaping with native plants to attract birds; war photojournalism; birding basics; Buddhism to make a difference; Texas railroad history; identity-theft protection; beginning social/ballroom dancing; the music of Claude Debussy and Maurice Ravel with the paintings of the Impressionist artists of the time; the diversity of Texas plants; wolves, bison and the environmental history of Native Americans; music of Johannes Brahms and paintings of Academic and Victorian Classicism; and, the North Texas State Fair and Rodeo. Whew!
"In addition, there are different clubs– actually, similar-interest-groups (SIG)– such as [in] theatre, books, jazz and winery tours and more," said Reinke. "Those are separate and will require a fee, usually discounted, for an activity. But, I [the program] paid for a bus for a recent event so the group could all travel together. Also, we get 40 complementary tickets for each music event from the UNT Music Department, which is just one floor above us."
In September, two such special events featured the UNT College of Music– Symphonic Band and the Wind Symphony concerts at the Murchison Performing Arts Center.
OLLI members are also able to receive discounts on sponsored specials, such as the recent appearance at UNT by Jane Goodall, the world-renowned primatologist and anthropologist considered to be the world's foremost expert on chimpanzees. "Not only did they get a discount for her appearance, but they were invited to also attend a private reception and get to meet her," said Reinke.
She also shared that a couple who were OLLI members in New York City was interested in a change of location for their retirement. The couple looked at OLLI Programs elsewhere and– after looking at the UNT catalog– moved to the North Texas area.
In addition to being able to attend any of the more than 300 classes and events OLLI offers to its members, "from 43 different communities in the area," said Reinke, the program also sponsors trips.
In 2019, Senior Travel Opportunities are: Cuba– March 24-31; Colorado Rockies, featuring National Parks and Historic Trains, July 26 to Aug. 3 (nine-days with 12 meals included); and Colors of New England, featuring Boothbay Harbor, Maine, Oct. 1 to 8 (eight-days with 10 meals included).
OLLI membership is based on a rolling (annual) calendar, not by an academic or semester calendar. An annual membership includes the current semester, as well as the following two semesters.  The Fall Semester is August-November; the Spring Semester is February-May; and the Summer Semester is June and July.
Membership levels are: $55, plus $10 per class; $140, including unlimited classes; and, for UNT Alumni and Retiree Associations members, plus Flower Mound Senior Center members, a special discounted $75 for the annual $140 membership.
"People who want to see what OLLI offers can either email or call us to have their name added to the roster of a particular class to receive a [one-time] guest pass," said Reinke.
For full membership, locations, hours and course/calendar information, click here or call 940-369-7293.
Just to prove no one is ever too old to show school pride, the UNT OLLI members can shop for spirit-wear items including T-shirts, caps and bumper stickers. Go OLLI!