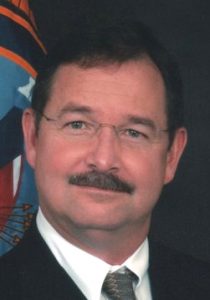 Many thanks to the Double Oak Volunteer Fire Department for their response to the torrential rains on Friday, September 21. Their diligent efforts that night (and during previous months leading up to the rain storm) kept culverts from becoming obstructed and unable to properly drain the huge volume of water experienced by our town. Their efforts to ensure that streets were properly shut down, and diligence in maintaining drainage areas, kept numerous homes from being flooded and reduced the danger presented to motorists by the storm. It's an honor to work with selfless people volunteering their time in service to our community.
I'm going to write about an emotional topic that has hit close to home. Approximately five years ago all members of my family noticed a distinct decline in my father's motor and cognitive skills. My father is one of the smartest persons I've ever known. He graduated from Texas A&M with a degree in Zoology; attended the University of Texas Medical School and graduated Magna Cum Laude; served in the Public Health Service for eight years; became a Dermatologist; taught at Columbia University and co-wrote a medical book; later in life he taught and mentored numerous University of Washington Medical Students while maintaining a medical practice for residents of Western Montana.
Dad cares deeply about the welfare of other people, family and animals. Yet he can be very strong-willed and independent. Dad always believes he's the smartest person in the room (he usually is) and he's been a respected member of the medical profession for over fifty years. Yet none of us, including the smartest person I've ever known, is immune to the challenges of age.
I was visiting mom and dad at their home in Montana and volunteered to drive them to a favorite restaurant. I was immediately aware of dad's extreme nervousness because the route I was taking wasn't "…the right way…"  When I turned down a street to avoid construction dad became extremely agitated, literally screamed (just screamed…no statements), and grabbed on to the strap hanger over the passenger seat. I pulled over and offered to let him drive. Mom sat quietly in the backseat and didn't say a thing. Later she took me aside and said she'd been biting her tongue for the past year as dad's driving skills and judgement deteriorated. He refused to wear glasses, wouldn't use a hearing aid and wouldn't let her drive when he was in the car. My siblings and I had the first of many family meetings in which we confronted dad about his poor driving. Promises were made where he wouldn't operate a vehicle after dark, would let mom drive, and would wear his glasses and his hearing aid. Promises were kept, for increasingly shorter periods of time. He would revert back to driving without his medical appliances, bullying mom about the use of the vehicle and avoiding the subject of driving with his children at all costs.
Finally, this year, things came to a crisis when dad lost control of his car and crashed into my sister's home. Again there had been promises made about letting mom drive and giving up the car keys. Again promises that weren't kept.
We know that there is a statistical correlation between increasing age and involvement in fatal crashes. Fatal crashes for persons in the age bracket 65-69 are 22.96 per 100,000 for men and 7.62 per 100,000 for women. As the years march by those statistics climb to 31.60 per 100,000 for men and 12.15 per 100,000 for women for persons over 85 years of age. (Source: FARS 2015 ARF. Licensed Drivers: Federal Highway Administration)
What can a family member do to keep an older loved one from driving? Well certainly sit down and try to have a reasoned conversation about driving. Visit with you elder loved one's physician and attempt to facilitate a conversation about driving.
Have you noticed your older motorist getting lost on routes that should be familiar? Are there new dents on the car (a favorite question of mine…hey dad why is this part falling off your car)? Has an older loved one received a citation recently (don't blame the motorist…it's just the police being mean again!)? Have any near-misses or crashes lately? Is your loved one having to take medications that are affecting their driving? Speeding up or slowing down for no reason? Suffering from illnesses that may affect driving skills? (Source: The Clearinghouse for Older Road User Safety)
In Texas, if you have a family member who's driving concerns you they can be referred to the State Medical Advisory Board (MAB), a panel of licensed doctors appointed by the Texas Department of State Health Services to review medical documentation relating to an individual's ability to drive.
The most common way for MAB referrals to occur are self-reporting of a medical condition; a DPS referral (a driver's license examiner suspects that something is medically wrong with a license applicant); multiple convictions for alcohol or drug use; or a referral by law enforcement, a physician or a private citizen (read family member). "An individual may submit, in writing, their concerns of drivers who may have a medical condition that could affect their ability to safely operate a motor vehicle.  All written concerns may be submitted anonymously to DPS." "Verbal notification is not sufficient evidence for DPS to take action. Please provide a detailed explanation as to why it is unsafe for the individual reported to operate a motor vehicle." "Information may be submitted to DPS by mail, fax or email." (Source: www.dps.texas.gov/DriverLicense/MedicalRevocation)
Texas Department of Public Safety, Enforcement and Compliance Service, P.O. Box 4087, Austin, TX 78773-0320. Fax Number 512-424-5311. Email:  [email protected]
Finally, Dad's no longer driving. He was a danger to himself and others. It was a difficult process which required the assistance of multiple family members, physicians and law enforcement. In the end the right things are being done to keep others safe. My biggest regret is that we didn't address the issue sooner.
Thank you for the opportunity to serve.
It is of note that these offenses probably took place during the early morning and under the cover of darkness. Both vehicles were parked in their respective driveways and required that the suspect(s) approach the vehicles on foot.
This offense is currently under investigation. If you have any information that may be of assistance please contact Investigator C. Murphy at 972-355-5995.
Please report all suspicious activity to your local Police Department by calling 911.
 Recent Police Calls
 08-24-18 – Disturbance – Double Oak – Complainant reported that he and an employee were involved in a dispute about unpaid wages. Known male is alleged to have threatened the complainant with a box-cutting knife. Complainant declined to press charges.
08-25-18 – Suspicious Vehicle – Double Oak – A resident reported an unknown male in a silver four door vehicle parked on the street for over an hour. Further investigation revealed that the motorist was an employee hired to feed horses in the neighborhood and that his vehicle had broken down.
08-26-18 – Possession of Marijuana – Double Oak – During the conduct of a traffic stop a Double Oak Officer determined that an adult female motorist had marijuana in her vehicle. Less than four ounces of suspected marijuana was seized, the motorist was issued a citation for a traffic violation and an investigation is ongoing.
08-26-18 – Theft – Double Oak – Complainant reported that clothing and multiple prescription medications were missing from her vehicle. It is unclear if the items were removed from the car in Double Oak or a surrounding community as it took the motorist approximately five days to notice anything was missing.
08-27-18 – Disturbance – Double Oak – A Double Oak and a Bartonville Officer responded to a residential disturbance call between family members at approximately 10:55 p.m. Further investigation revealed that one member was intoxicated and was not sure that there wouldn't be further problems if he was left at the location. An adult male / 24 years old was taken into custody for assault/family violence and transported to Denton County jail.
08-29-18 – Suspicious Circumstances / Evading Arrest Detention – Double Oak – A witness observed an adult male laying down in the back seat of a car with the door open. Fearing the subject had overdosed the witness called for emergency services. It was determined that the subject had not overdosed but had been drinking the previous night and stopped in Double Oak to take a nap. During an investigation into possible public intoxication the adult male / 24 years of age, became non-compliant and attempted to leave the location on foot. Subject was taken into custody and transported to Denton County jail.
08-29-18 – Theft – Double Oak – A resident reported that three pieces of jewelry, with a value of greater than $1,500, had been removed from their residence, by an unknown person(s) without permission, in the previous two months. An investigation is ongoing.
09-01-18 – Harassment – Double Oak – Complainant reported receiving multiple harassing messages via electronic means.
09-02-18 – Arrest – Double Oak – Adult male / 19 years of age arrested for multiple misdemeanor traffic warrants and transported to Flower Mound jail.
09-09-18 – DWI – Flower Mound – Double Oak Officer assisted Bartonville PD with the arrest of a suspected intoxicated motorist who had been followed by law enforcement from Bartonville to Flower Mound.
09-15-18 – Medical Call – Double Oak – Possible overdose.
09-18-18 – Arrest – Double Oak – Adult male / 26 years of age arrested for multiple misdemeanor warrants and transported to Flower Mound Jail.
09-21-18 – Disturbance – Bartonville – Double Oak Officer assisted Sheriff's Deputies with the investigation of a family disturbance in Bartonville.