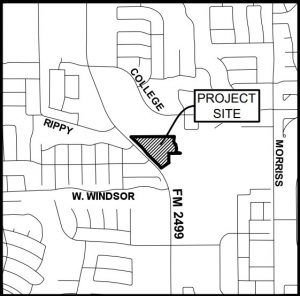 December 2020 is the target date doors will open at the NEM Senior Living multi-family rental project, according to Bobby Dollak, DFW Region Director for G&A McAdams.
"Breaking ground as early as February and 22-months of construction," was the timeline he set.
The Planning and Zoning Commission's approval of the replat and site plan for the project were the final requirements needed to begin construction.
The gated property– for residents at least 55-years-old– is located on 9.1-acres south of Rippy Road and east of FM 2499, within Flower Mound's Senior Housing Overlay District, which was created in March 2017, as a lure for senior housing developers. It features incentive the town can grant for specific park and SMARTGrowth requirement fee waivers, which will be applied to amenities.
On Nov. 5, 2018, Town Council approved the rezoning request by NE Development, LLC for the town's first senior residential rental project within the district; which includes sites located 2,500-feet on either side of FM 2499, from FM 407 down to– but not including– the northern boundary of the Lakeside Business District.

The development has 182-units, with 118 one-bedroom, 61 two-bedroom and four three-bedroom units in its main four-story building. Four additional residential buildings feature 2,200-square-foot two-story units, with garages below. A total of 222 parking spaces are planned.
The main building surrounds a central courtyard with amenities including an outdoor swimming pool, putting green, bocce ball court, garden gazebo, yoga area, dog park and shade areas.
"It's going to be a fantastic courtyard," said Dollak. "There are 10 trees for an interior tree canopy for the inside balconies, as well as those outside."
Indoor amenities include a dining hall, TV lounge, a bistro and a weight room.
"This is exactly what we were looking for," said Vice Chairman Laile Neal. "This is a fantastic project to go there."
A proposed trail along FM 2499, with a bridge to link the project to both Gaston Park and Timber Trails Park, was left for future consideration.
NEM joins Overture in Lakeside DFW– which opened in 2018– plus Pinewood Hills as Flower Mound's independent living rental options for seniors.