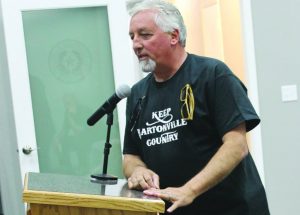 The Bartonville Town Council on Tuesday rejected a request to access sewer service at the intersection of McMakin Road and Jeter Road for a proposed restaurant.
Local entrepreneur Rick Hopper of Lantana recently submitted a bid to purchase the old Bartonville Store from the Town of Bartonville.  The property at the corner of McMakin and Jeter is zoned Rural Business and not serviced by sewer.
Hopper was proposing to convert the store into an old-time Western-style restaurant that would serve breakfast and lunch, and be fronted by a hitching post.
No stranger to Bartonville, Hopper owns the old Bartonville Water Corp. building next door to Bartonville Town Hall that serves as the headquarters of his ReadeREST magnetic eyeglass accessory business.
In keeping their promise to keep Bartonville rural, Council members Jim Langford, Jim Murphy, Clay Sams, Jeff Traylor and Mayor Pro Tem Jaclyn Carrington disapproved extending sewer service to the intersection.
A large number of residents turned out to express their opposition to the project.
Jeri White spoke for many in her comments about the proposed restaurant, saying, "As a concerned Bartonville resident, I urge you to vote against additional sewer connections in our town. Our citizens have voted for you in good faith on a promise to keep Bartonville rural. Additional sewer services will open the door to high-density developers such as Argyle has succumbed to. Please do not be swayed or intimidated by special interest groups who do not have a rural Bartonville in mind. Our town is very desirable and any business lucky enough to locate here should be willing to honor the town guidelines."
"We don't want to be like Argyle," objected resident Pat Adams.
Before casting her vote, Mayor Pro Tem Jacyln Carrington said, "Most of those in Bartonville are against the project, so I cannot support it."

Place 4 Council member Jim Murphy Traylor said, "Long term, not installing sewer service is a firewall against further development. I have had many conversations with people and their concerns over sewer need to be addressed."
Though Council member Jim Langford of Place 5 voted against allowing sewer service at the intersection, he warned, "We need to look ahead when Bartonville Town Center Phase II is built out.  Now, it's a fact that those two corners [NW and SE Jeter/McMakin] are the ugliest corners in the town. At some point, we will have to make hard decisions."
According to Mayor Bill Scherer, the messages he received from Bartonville residents were running two to one against extending sewer service.
"We have to watch this. It takes one council to change a town," noted Scherer in response to concerns about the provision of sewer services possibly prompting more development. After the vote, Scherer told Hopper, "We appreciate the proposal."
In Hopper's address to the town council, he said, "I am not a developer. I want what's best for the community. If you don't like me, it's because you don't know me. I want to do something on that corner and make America—I mean Bartonville—great again."
In answer to the mayor's question of "What do you want to do?" concerning whether Hopper was willing to follow Bartonville's sewer plan by using septic on the property, Hopper replied, "I don't know. I will get back to you."
Hopper later told The Cross Timbers Gazette that he plans to walk away from the project.
The town council also approved a resolution opposing the installation of a new electrical substation and transmission lines in and through Bartonville.
Brazos Electric Power Cooperative and CoServ Electric are considering one of four sites in Bartonville for a substation and power lines to serve Canyon Falls in southwest Flower Mound.
Many among the crowd noted their objection to the project. Bill Reeves faces the prospect of the lines traversing his property where he has a horse riding arena.
"I'm certain they can push me to the point where they claim imminent domain. They'll compensate me for it but it won't cover the devaluation of my property," said Reeves.
Mayor Scherer predicted that the courts may ultimately get involved. "It will probably end in a legal battle," he said.
The town council also directed staff to move forward with updating the town's rules about on-site sewage facilities, which will include more stringent standards than state law. Since those standards will be stricter, they will require review and approval by the Texas Commission on Environmental Quality.
They also heard a request from Police Chief Corry Blount for covered parking for the police department's four cars to prevent hail damage such as they sustained during the recent storm.