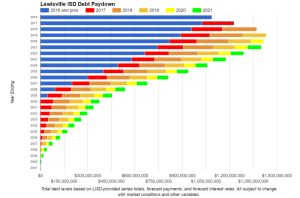 Starting Monday, voters within Lewisville ISD will go to the polls to decide whether to approve $737.6 million in bond financing for capital projects in the district.
While that dollar figure is large, the level of debt both before and after the election are very comparable to other local districts and districts of similar size to LISD.
Previous articles have explained the process by which the Facilities Advisory Committee evaluated the district's facilities and needs, and proposed the 2017 bond program.
The Lewisville Texan Journal has obtained current debt information from the district as well as forecasted issues and tax rates for the bond package if it passes.  Here, the LTJ explains what the impacts will be if it passes, and how the district compares to other local school districts. Read more here.