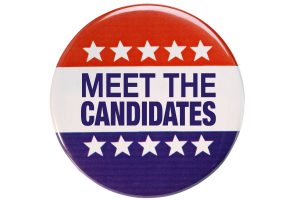 The Cross Timbers Gazette asked each candidate in a contested race to answer a brief questionnaire to help voters make an informed decision at the polls this May. Election Day is Saturday, May 6, with early voting beginning Monday, April 24, running through Tuesday, May 2.
Lewisville ISD – Place 7
Place 7 candidates are Shari Chambers, incumbent Tracy Miller and Sandra N. Weinstein. A fourth candidate, Colleen Shaw, dropped out of the race on April 19.
The candidates are listed in alphabetic order.
Shari Chambers, 53
The main issues facing your district and how you would resolve them: Adding $737+ Bond to the tax-supported debt over $1 billion.  Districts of similar size and area have less tax-supported outstanding debt.  Start looking from top to bottom in all areas to meet needs first.  Then engage the community at board meetings.  Future budgeting for our future not the next Bond proposal.
Why voters should elect you:  I have always been taught that everyone matters, children should come first and they cannot always be heard.  I am a new voice for our community so everyone can be heard on the Lewisville ISD School Board. By profession I am a Project Management Specialist.  My background includes IT Hardware, Software Implementation, Financial Accounting, Human Resources, Risk Management, Client Relations, Vendor negotiations, and collaborating with diverse personalities to reach solutions. 
Current occupation: Homemaker
Education: Two years colleges, Banking Certificates,
Current civic involvement:  Active PTA Volunteer, Room Parent, ASPCA,
Past civic service:  I have served on the PTA school board as Treasurer, Secretary, Vice President, and President in Ohio while my daughters were in school, as well as active with Booster Clubs, Room mom.  Was a Daisy Troop Girl Scout Leader and served as Cookie Mom.  I am a Majority Member of the Masonic Order of Job's Daughters, a Past Honored Queen and District Representative.  My community service project was raising funds for a Service Dog for a Blind youth, worked with Special Olympics, and raised funds for the Wounded Worriers project.
Have you ever been arrested or involved in any criminal proceedings or civil suits: No
Additional Comments: I feel the school board has gotten off-base and disconnected from our community.   The Trustee's and Administration have forgotten that this is your children, your schools, your community.
Website: shariachambersforlisd.org
Facebook: www.facebook.com/shariachambers/
Tracy Scott Miller, 53
The main issues facing your town/district and how you would resolve them: Replacing aging facilities and building schools to handle East student growth. Unfunded mandates that force LISD to encumber more Operations funds. Educating more students who come with greater needs. All require efficiency in delivery of services; new construction requires bond funds.
Why voters should re-elect you: I have worked to connect LISD to its communities. I run on principles, not platforms.  I am informed by my faith and grounded in the Constitution.  I seek broad input before making decisions.  I spend a great deal of time listening/advocating and I am accessible and responsive.
Current occupation: I am a global business executive with a large, privately held technology company.
Education: I have a BA in Computer Information Science from Judson University and have completed advanced studies at Dallas Theological Seminary and Yale School of Management.
Current civic involvement: Rotarian; Member of The Village Church, Home Group Leader with spouse, teach Sunday School; mentor at 2 elementary schools through Communities in Schools and Loving Communities; founded Mat Carriers (connects problem solvers with people in need of solutions); Chapel Springs Homeowners Association President.
Past civic service: Booster clubs while my kids were in LISD schools; since 2002, I served as the Double Oak Mayor Pro Tem, Councilman and Town Treasurer over an 11 year period. 
Have you ever been arrested or involved in any criminal proceedings or civil suits? If so, please explain: No.
Any additional comments: I have a proven record in working with LISD and its communities to accomplish our shared goals and to meet student needs.  I want to continue efforts to strengthen our LISD schools and provide the best education possible for our 53,400 students.  
Website:   www.TSMiller4LISD.com
Twitter:  @TSMiller4LISD
Facebook:  TSMiller4LISD
Sandra Weinstein, 57
The main issues facing your district and how you would resolve them: ensuring that all students have access to high-quality education.  We need to identify learning-differentiated students early to help them adjust and compensate for an effective learning experience.  School funding is also a concern.  Wise borrowing and advocacy is the approach I will take.
Why voters should elect you: I bring a fresh perspective as a business professional who understands the requirements of the future workforce and has experience in leadership, managing complex budgets and making tough decisions.  I also bring the experience of a parent who has put two children through public school and has been their advocate.  
Current occupation: Marketing Professional
Education: BA in Journalism, Butler University; Higher Education, Indiana University/Purdue University and Loyola University; Executive Management Program, Kenan Flagler School of Business, UNC
Current civic involvement: Captain of the AT&T Marketing Communications Heart Walk.  Exceeded fund raising objective by 12-percent. Precinct chair. Member of the coordination team for Bring Your Child to Work Day. Participant in community volunteer activities in Dallas. Member of the Women of AT&T, IDEAL and several other Employee Resource Groups.
Past civic service: Junior Achievement mentor in three states.  Cub Scout Leader, assistant baseball coach, PTO volunteer and chair of 9th grade graduation committee, Sunday school teacher
Have you ever been arrested or involved in any criminal proceedings or civil suits: No  [Editor's Correction: Ms. Weinstein's response was originally  incorrectly listed as "No Response;" rather than "No." We regret any confusion this might have caused.]
Additional Comments: I look forward to meeting people and exchanging ideas as I go door-to-door campaigning for equal access to a high-quality education.
 Facebook: weinstein4LISD