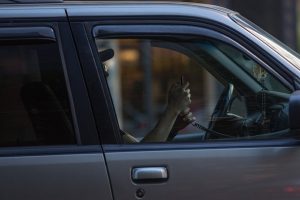 April is National Distracted Driving Month and while that certainly applies to everyone, it may be doubly important to communities with hands-free laws on the books.
In Denton County, only Argyle, Denton, Lake Dallas and Little Elm have passed such ordinances.
Argyle's law makes it illegal for anyone to use a hand-held cell phone or electronic device while driving. Though the ordinance went into effect at the start of 2016, Police Chief Tom Tackett and his team didn't start enforcing it for several months with mixed results.
"Some people get the message," he said. "There's still people out there– I can sit here and see them– driving by and I count one of eight that are on their phone. But, our accidents actually decreased about eight-percent last year and a contributing factor for driver inattention did drop to 12 percent from 15 percent the previous year.
"It's not as significant as we would hope, but there's other things than just using your phone that can cause driver inattentiveness. I've had people who I've stopped for talking on the phone who will say 'is it okay to eat a hamburger, is it okay to drink a cup of coffee?' The truth is yeah, it's okay, because the ordinance doesn't affect any of that. I do know, if you're having a conversation you are completely distracted and especially if you are texting. There's a big difference."
Tackett's department issued 184 citations for disregarding the hands-free ordinance in 2016. That's out of 2,192 total citations and it cost offenders up to $200 each.
"That's a pretty significant number, when you consider we didn't start actually writing those citations until May or June [2016] when the signs actually went up," said Tackett, adding the town spent the first half of 2016 notifying citizens through social media and mailed postcards.
Drivers in Argyle can talk hands-free with Bluetooth, or use a headset or their speakerphone. They just can't have their phones in their hands and be looking at them or have them up to their ears to talk.
"Most people I've personally stopped know they're not supposed to be on their phone, but they just forget," Tackett said. "Plus, there's out-of-towners who say they didn't know about our law. Maybe if they hadn't been on the phone they would have seen the big signs."
Tackett said it will be interesting if any state legislation passes, and he wonders whether the town's downward trend will continue.
Texas is one of four states that do not have a statewide ban on texting and driving. After pushing the issue for nearly a decade, key lawmakers in the Texas Legislature are optimistic that a statewide texting-while-driving ban is within reach.
"The issue is enforcement," he said. "We could have passed a no-texting ordinance, but that's hard to prove," Tackett said. "The City of Denton found that out with theirs and that's why they changed it to hands-free. We think ours is the most workable aspect if you want enforcement."
Meanwhile, the Texas Department of Transportation estimates a three-percent increase in distracted driving crashes in 2016 versus 2015, with 20-percent of statewide crashes occurring because of distracted driving.
The recent tragic accident near San Antonio, between a texting driver in a pickup truck colliding head-on into a church minibus, resulted in the death of 13 senior citizens.
"People are dying on Texas roadways, because drivers are diverting their attention from the road to talk on a phone, send a text, post to social media or engage in some other distracting behavior," said TxDOT Executive Director James Bass in a press release. "When drivers take their focus off the road, they put themselves, their passengers and others at risk. It's just not worth it."
TxDOT surveys reveal 38-percent of drivers regularly or sometimes use cell phones while driving. Such use doubles reaction times with a driver texting at 55-miles-per-hour, losing sight of the road for five seconds is equal to driving an entire football field.
That's a major reason TxDOT is promoting a new "Text, Talk, Crash" initiative this month to remind drivers to stay alert while on the road. The "Talk, Text, Crash" campaign reminds drivers to:
Pull over to a safe location if you must talk or text.
Use an app that will block texts and calls while driving.
Tell friends, family and colleagues you won't respond to calls or texts when driving.
Always give driving your full attention.
Tackett's message is even simpler.
"Just put down that device," he said. "When in town, put it down."