School districts serving southern Denton County will remain closed Friday.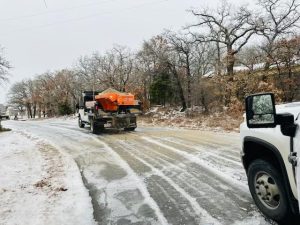 The National Weather Service forecast calls for temperatures to dip below the freezing point again Thursday night, likely leading to refreezing of water and slush on roads and sidewalks, potentially causing hazardous travel conditions (black ice) early Friday morning. Drivers are urged to use caution when driving until the ice melts Friday. The forecast calls for drier and warmer weather for the next several days. Generally, primary roadways are in better shape than side streets and neighborhoods.
Because of this, Northwest ISD said it will remain closed Friday. The district covers a wide rural area, and it expects too many rural and residential roads to be too dangerous Friday.
"The district considered a delayed start at noon, but we cannot be certain road conditions will adequately improve by that time to safely run bus routes or allow a safe commute for families, student drivers and staff," Northwest ISD said in a statement.
Argyle ISD and Liberty Christian School also decided to stay closed Friday.
"After evaluating our campus entrances, parking lots, sidewalks and surrounding roadways Thursday afternoon, we determined the conditions are not safe to reopen our schools," Argyle ISD said in a statement. "Temperatures are not expected to warm soon enough for these areas to be safe Friday morning for our buses, students, staff and families."
Denton ISD and Lewisville ISD, had said Thursday afternoon that they were planning to open on a two-hour delay Friday. However, both announced after 8 p.m. Thursday that they were, in fact, keeping school closed on Friday.
Denton County, the city of Highland Village and the towns of Argyle and Double Oak have announced that they will delay opening their facilities until 10 a.m. Friday.
Click here for details on altered trash collection schedules this week in southern Denton County.
Check back for updates.