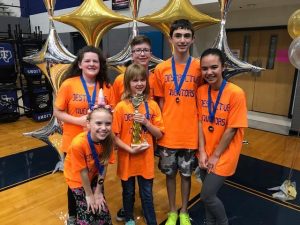 Lewisville ISD will host two open houses in September to spread awareness about its Destination Imagination program.
Destination Imagination is about creative, innovative and problem-solving skills with teamwork in many different challenges, from science and engineering to fine arts and community outreach.
Parents and students are invited to learn about the fun, educational program for students in Kindergarten through 12th grade by attending one of LISD's Destination Imagination Awareness Nights in September, according to a news release from the district. These are free, interactive events with displays, videos and activities for the kids.
The first open house will be held Sept. 12 at Forestwood Middle School, 2810 Morriss Road, Flower Mound, from 6:45 to 8:15 p.m. The other open house is scheduled for Sept. 17 at Arbor Creek Middle School, 2109 Arbor Creek Road in Carrollton, also from 6:45 to 8:15 p.m.
If you plan to attend, you can skip the check-in line by pre-registering here. For more information, contact Robin Napier at [email protected].