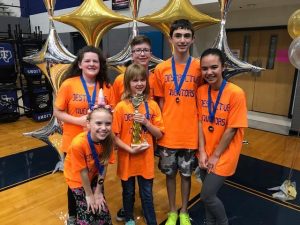 Lewisville ISD students set a record last month for wins at the Regional Destination Imagination Tournament.
At the Trinity Valley North Texas Regional Tournament in Carrollton, 18 LISD teams qualified to advance to the state Affiliate Tournament in Mansfield, where they will compete against the top teams from all over the state, according to the school district. Two Flower Mound High School seniors, Miranda Wilson and Casey Kassal, also were awarded college scholarships for their success in the Destination Imagination program.
Destination Imagination is about creative and problem-solving skills with teamwork in many different challenges, from science and engineering to fine arts and community outreach.
The Affiliate Tournament will be held from April 6-8. The LISD teams that will compete there are the following:
Technical Challenge: Maze Craze
Bluebonnet Elementary School – Srilekha Mundla
McKamy Middle School – Amanda and Stan Solari
Flower Mound 9th Grade – Erin Charles
Scientific Challenge: Unlikely Attraction
Castle Hills Elementary School – Bushra Aziz & Erin Stubing
Briarhill Middle School – Angela Harper
Hebron High School – Terri & Mackenzie Kinsella
Fine Arts Challenge: Change of Tune
Castle Hills Elementary School – Bushra Aziz & Runjhun Goel
Timber Creek Elementary School – Kristy Hundt
Shadow Ridge Middle School – Jennifer Wallace & Kimberly Kinnaird
Hebron High School – Natalia Garcia
Engineering Challenge: Drop Zone
Homestead Elementary School – Vipla & Manoj Shrivastava
Hebron Valley Elementary School – Ajay Pol
Arbor Creek Middle School – Natalia Garcia & Manoj Shrivastava
Community Outreach Challenge: Inside Impact
Hicks Elementary School – Dana Ronderos
McKamy Middle School – Chessa Timoszyk
Texas eXtreme Creativity
Flower Mound High School – Christie Kassal
Flower Mound High School – Robert Wilson & Phillis Jayaram
Marcus High School – Rachel Tamez & Leslie Hannah