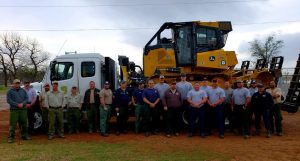 Several local firefighters returned home Monday after they were deployed to Wichita Falls for over a week.
The deployment was part of the Texas Intrastate Mutual Aid System, and part of a larger strike team that included members from the Flower Mound, Highland Village, Lake Cities, Lewisville, Little Elm, Coppell, Frisco and Plano Fire Departments.
The team was demobilized Monday morning after the fire danger threat was lowered.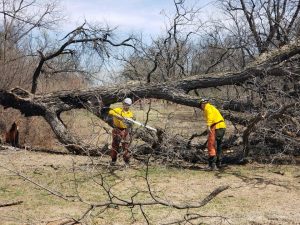 Flower Mound Fire Department Engineer Brody Eakin and Firefighter Jason Bowman went to Wichita Falls on March 17 in response to several large wildfires in West Texas and the Texas Panhandle, said FMFD spokesman Brandon Barth. The local firefighters were sent to Wichita Falls because of an expected high risk of wildfires, and they could provide backup in the case of large wildfires elsewhere in the region.
Highland Village Fire Department Driver Operator Mel Harper was also deployed to the TIFMAS team in Wichita Falls, which did not respond to any fires, Barth said, but they spent the week training for structural protection, drafting water out of bodies of water and fuel reduction, removing shrubs and trimming trees to reduce a potential fire's ability to spread. Barth said the town will be reimbursed by the state for the crew, equipment and overtime needed to cover for the deployed firefighters.