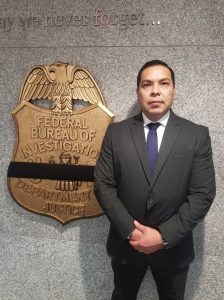 A Double Oak Police Department Lieutenant recently completed a FBI leadership course in Quantico, Virginia.
Lt. Ruben Rivas attended and completed the FBI National Academy leadership development course, and he received his diploma from FBI Director Christopher Wray on March 16, according to the police department.
"We are incredibly proud of Lt. Rivas' accomplishment and excited to have him back home to serve the citizens of Double Oak," the department wrote in a social media post.
The National Academy is a 10-week program where students receive training in ongoing law enforcement issues, employment law, constitutional law, physical fitness and leadership, according to the department. It is an internationally respected training program in which promising police leadership is identified, nominated and given the privilege of working and learning with the finest police commanders from around the United States and the world.