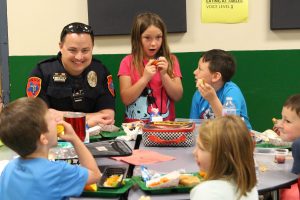 Denton ISD has launched a new program offering a free meal to uniformed first responders and military members.
With "A Hero's Helping," first responders can get lunch in any of the district's 41 campus cafeterias any day, according to a district news release. The program is intended to give students and staff more opportunities to build positive relationships with police officers, firefighters, paramedics and active military and veterans, as well as provide an extra sense of security.
"Providing them lunch is the least we can do," said Jamie Wilson, superintendent of schools.
Denton County Sheriff Tracy Murphree had lunch with eighth graders Tuesday at Harpool Middle School in Lantana.
Personnel who are on duty and stop by for lunch are encouraged to park in the front drive and maintain a very visible presence while on campus, the news release said. The district is also encouraging neighborhood patrol officers to park their vehicles in and around school property when they need to complete paperwork during non-school hours.
"We have lots of parents who stop by to eat lunch with their student but would love to expand that and have folks in uniform join us every day on a campus," Wilson said.
The district's 41 campuses in 18 communities are served by the Denton County Sheriff's Office as well as police and fire departments from Corinth, Denton, Little Elm and Oak Point.
No reservations are necessary for "A Hero's Helping." However, if a large group of five or more plan to attend, they are asked to contact the school's cafeteria manager.