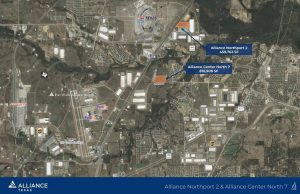 Hillwood, developer of the more than 26,000-acre master-planned AllianceTexas development, will build two new speculative industrial buildings totaling approximately 1.3 million square feet, according to a news release from Hillwood.
Alliance Center North 7 will offer 810,908 square feet in Fort Worth, and Alliance Northport 2 will total 459,762 square feet in Northlake. Both buildings are located in southern Denton County with direct access to I-35W, according to the news release. Hillwood will start construction on these new facilities in September, with completion scheduled for mid-2020.
Alliance Center North 7 and Alliance Northport 2 will provide flexible design options for either single or multi-tenant configurations to meet a wide range of customer needs, the news release said. Both facilities include 36-foot clear height, cross-dock configuration, on-site trailer storage and adjacent land for expansion. Alliance Northport 2 has the additional advantage of being located in an area with one of the lowest tax structures in North Texas.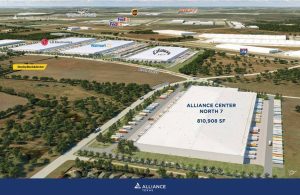 "Over the last 18 months, Hillwood has launched almost 6 million square feet of new industrial projects at AllianceTexas, leasing over 3 million square feet of that space while still under construction," said Tony Creme, senior vice president of Hillwood. "These new buildings are a result of Hillwood's 'on-demand' approach of continuously having Class-A speculative space available for immediate occupancy to meet the needs of global logistics companies seeking instant speed to market."
On the heels of Callaway Golf Company's recently announced 783,465-square-foot national distribution center at AllianceTexas, Alliance Center North 7 and Alliance Northport 2 will also benefit from the same robust transportation infrastructure platform, which includes Fort Worth Alliance Airport and BNSF Railway's Alliance Intermodal Facility. Additionally, both facilities are in close proximity to expedited parcel shipping options at the FedEx Express Southwest Regional Hub and the UPS and FedEx Ground Hubs, and are located less than one mile from the intersection of Interstate 35W and State Highway 114, providing convenient freeway access in all directions.
Both facilities will have access to the same workforce recruitment, training and retention resources that are currently available to all AllianceTexas companies through the Alliance Workforce Center and Tarrant County College's Corporate Training Center and Center of Excellence for Aviation, Transportation and Logistics (CEATL).