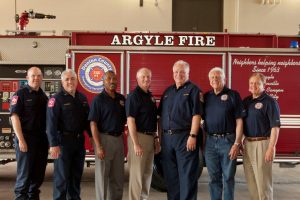 It wasn't clear earlier this summer which fire department — Argyle or Flower Mound — would be providing fire service to the Northlake side of Canyon Falls, but that will be Argyle later this year.
Last month, the Flower Mound Fire Department and Argyle Fire District disagreed over the western section of the Canyon Falls subdivision, located northwest of FM 1171 and Hwy 377. Denton County Emergency Services District No. 1 coordinates the fire services for much of the surrounding area, and it had contracted with FMFD to service the Northlake side until Argyle FD's new Station 514 could be built and could have an unobstructed path to Canyon Falls. The station opened late last year and construction was finished on Cleveland Gibbs Road earlier this year, so this summer the ESD canceled its contract with FMFD. Chief Eric Greaser fought back, saying in a letter to the ESD board that FMFD is still closer and better equipped to handle fire service for all of Canyon Falls.
That disagreement muddied the waters last month, but AFD Chief Mac Hohenberger confirmed Friday that the Northlake side of Canyon Falls would return to AFD's jurisdiction on Oct. 1, 2019. At Thursday night's ESD board meeting, the ESD proposed a mutual aid agreement between AFD and FMFD that would be a win for both departments and the Canyon Falls residents.
Station 514 will be getting an ambulance between November and January, Hohenberger said. That ambulance will be much closer to Canyon Falls — and on the same side of the train tracks — than FMFD's closest ambulance, located at Station 2 at Shiloh Road and FM 1171. AFD is offering to extend its 514 ambulance service to the Flower Mound side of Canyon Falls in exchange for FMFD to provide mutual engine aid on the Northlake side when needed.
Greaser said he doesn't know all the details, but he sees the AFD 514 ambulance as a "huge victory."
"We're a long ways from the agreement, but I'm extremely optimistic that we can get there," Greaser said. "I think this will be good for Flower Mound and Northlake."