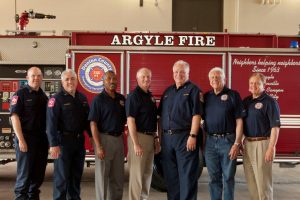 After a disagreement over which fire department will service the Northlake side of the Canyon Falls subdivision, that responsibility will remain with the Flower Mound Fire Department, for now.
Much of the area in and around Northlake, Argyle and Bartonville receives fire and emergency medical services from the Argyle Fire District, but some areas are contracted with fire departments from Flower Mound, Roanoke and Justin. It's all coordinated by the Denton County Emergency Services District (ESD) No. 1.
A few years ago, FMFD was contracted by the ESD to provide service to all of Canyon Falls, because FMFD's Station 6 was the closest fire station to the subdivision. Argyle Fire Chief Mac Hohenberger said that even after AFD Station 514 opened last year near Harvest, FMFD's help was needed because a portion of Cleveland Gibbs Road was closed, which would force AFD vehicles to take a longer route to Canyon Falls from Station 514.
"The agreement was that as soon as Cleveland Gibbs was done, we'd get Canyon Falls back," Hohenberger said.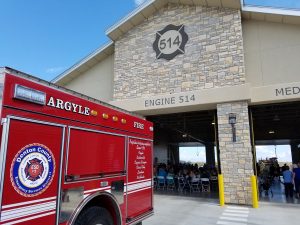 Construction was completed on Cleveland Gibbs a couple months ago, and recently the ESD canceled its contract with Flower Mound, prompting a critical letter from FMFD Chief Eric Greaser earlier this month. In the letter, Greaser claimed Argyle does not have enough firefighters staffing its equipment. He said Friday that AFD needs at least 11 people to staff its three engines and one ambulance, but according to a brochure given to the ESD by AFD, it only has 10 during the day and seven at night.
Hohenberger said that brochure is old — it was the case before Station 514 was built — and FMFD has been told this. He said 10 firefighters are now staffed at the three AFD stations 24/7, and there are always at least three firefighters/paramedics at each station. Hohenberger took issue with several things in Greaser's letter, calling it an "unethical" statement with factual errors that Argyle asked Greaser to correct, but the letter was forwarded to local news media outlets without those corrections.
Regarding response time, Greaser's letter said FMFD's station is closer and the response time would be faster. "Eliminating the existing contract agreement with the town of Flower Mound will, without question, increase response times to the citizens of Northlake located in Canyon Falls," Greaser stated in his letter.
Hohenberger said while AFD Station 514 is farther from Canyon Falls than FMFD Station 6, "it's a straight shot, with no school zones and little traffic. It'd take the same or less time to get there." He also said that 70 percent of calls in Canyon Falls are EMS in nature, and the closest ambulance to Canyon Falls is at AFD station 511 on FM 407. Additionally, the ESD plans to add an ambulance to Station 514 by next year, if not later this year, which would put an ambulance even closer to Canyon Falls.
Hohenberger said Greaser's letter has worried Canyon Falls residents so much that the ESD no longer wants to cancel the contract, but keep FMFD servicing Canyon Falls, at least for now. Some Canyon Falls residents have said on social media that they are worried that a change to AFD would cause insurance rates to go up, but Hohenberger says that won't happen.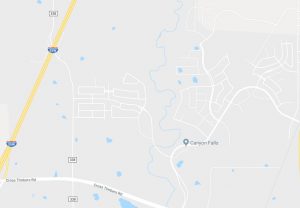 Hohenberger said he thought AFD had a good relationship with FMFD, and he hopes it still can.
"This business should not be competitive," Hoheberger said. "They do a great job. I don't think one does better than the other.
"It should be a joint deal; both Flower Mound and Argyle should be covering Canyon Falls."
Greaser said Friday that he doesn't have an issue with Hohenberger or the firefighters doing their jobs, but he believes the ESD has grown too quickly and needs better structure.
"What has blurred the lines and is causing all of this frustration is that out of necessity, Mac is essentially serving as director of emergency services for the ESD. They look to him and take his advice. The ESD needs a Director of Emergency Services who oversees all service providers," Greaser said, adding that the director shouldn't be him or Hohenberger, but someone else who will be brought on by the board "like a town manager."