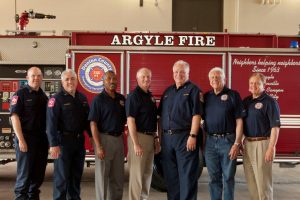 Every day, Argyle firefighters and paramedics answer calls for help and do their best to make a bad situation better.
The Denton County Emergency Services District (ESD) No. 1 is responsible for funding the people and equipment that provide safety for the residents in six communities and the surrounding area of 65-square-miles in southern Denton County. In total there are 280 Districts in the 84 Texas Counties.
ESD #1 is a political subdivision of the State of Texas dedicated to providing fire protection, fire prevention education and emergency medical services in the communities of Argyle, Bartonville, Copper Canyon, Draper, Northlake and surrounding areas of Denton County. In 2017, a similar agreement was also entered into with the Flower Mound Fire Department to provide faster service to parts of Flower Mound.
An ESD is a taxing entity funded by property taxes for the purpose of providing emergency services within the district.
The Denton County ESD #1 was formed in 2006 by a favorable vote of the residents. Before then, emergency services were provided by the Argyle Volunteer Fire District, which was funded by the municipalities. However, the funding was not always stable and varied with the town's budget constraints.
During the year ended Sept. 30, 2018, the District levied an ad valorem debt service tax rate of 10 cents per $100 of assessed valuation, resulting in a tax levy of $2,516,238 on the adjusted taxable valuation of $2,516,237,750 for the 2017 tax year.
"We apply for other funding, like Federal grants," said Argyle Fire Chief Mac Hohenberger. "We're trying to keep up with the housing growth, but houses come first and then we get money from the taxes. Unfortunately, it takes two years to get paid from the tax rolls."
The Denton County ESD is recognized by the state as one of the most effective operating ESDs in Texas, according to Hohenberger. The board mangers hold administrative costs below three percent of the annual budget.
The ESD is governed by a five-member board appointed by Denton County Commissioners. Fire, rescue and emergency medical services within the ESD are provided through contracts with local service providers. Current members are: President Jim Carter; Vice President Jay Haynes, M.D.; Secretary Steve Harris; Treasurer Jon Donahue; and Assistant Treasurer Clifford Travis.
"The members meet once a month and try to be good stewards of our funds," said Hohenberger.
At the April Board meeting, the Board continued discussions about the purchase of a new Pierce engine to replace the existing Engine 511, which is a 2006 model and will be retained to use as a reserve engine. The District currently does not have a reserve engine.
In 2009, Fire Station #513 opened in Lantana on Copper Canyon Road.  In March 2014, Station #511 at Gibbons and FM 407 opened, replacing the old fire station on Hwy 377.
A new fire station opened in Northlake in October 2018 and the District partnered with the City of Denton to cover Robson Ranch and the west side of Interstate 35W.
"We've managed to improve our ISO [Insurance Services Office] response time from a four to a three," said Hohenberger in reference to the amount of insurance a homeowner pays. "That improvement means people get lower insurance rates. All 911 calls go to Denton County dispatch, then they send it to the correct station via radio and internet for response."
There are 39 staff members and all the first responders are fully certified paramedics and firefighters.
Hohenberger started his career at the Argyle Fire District in 1991. He worked his way up the chain of command serving in each officer role. In 2000 Hohenberger was promoted to fire chief. Under his leadership, the AFD established its EMS transport service and purchased its first ambulance in the year 2000.
During the month of March, the Fire District responses were 49-percent fire-related and 51-percent were EMS.
"Both Station 511 on FM 407 and station 513 on Copper Canyon Rd. have an ambulance to respond to 911 calls," said Hohenberger. "Residents living within the district are not charged for ambulance transport. Their insurance company is charged and the district does not balance bill the patient."
Lantana isn't part of ESD #1; it has a separate contract that is paid by homeowners through their Community Association. In March, the Fire District responded to a total of 27 calls in Lantana, which accounted for 16 percent of the total calls for the month, with 44 percent of the calls fire related; and 56-percent were EMS calls.
The Board is considering a reimbursement program to fund paramedic school costs for firefighters. Up to $3,000 tuition costs would be paid by the District. Should the employee leave the District within two years, the funds would have to be repaid.
"They're the very best and I wouldn't trade any one of the men and women working for us," said Hohenberger. "They know that when a 911 call comes in from someone, it's the worst time in their lives; it's drastic for them. We do this everyday … emergencies are what we do. So, we always try to remember that and all our men and women are very good about it."
Even though ESD #1 is a funding entity for the State of Texas, it's really about people.