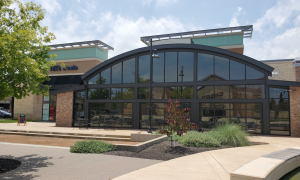 A new sit-down restaurant has opened in The Shops at Highland Village.
Lambeau's America Kitchen and Taps opened Tuesday in Patrizio's old spot, according to a news release from The Shops at Highland Village. Lambeau's is the third original concept eatery by local restaurateur James Verfuth, who owns Verf's Grill and Tavern in Flower Mound and Shoal Creek Tavern in The Shops.
Lambeau's is "inspired by the American heritage, ethics and hard work that helped build our country," and has a melting pot of ethnic dishes from host NFL team cities around the country. It's "a celebration of America and those who worked hard to make this the greatest nation on earth, with food that has been influenced by so many cultures that now are living the American dream," Verfuth said.
Menu items include chili cheese dogs from Michigan, Tennessee hot fried chicken, Arizona chimichangas, salmon from Washington, Asian salads from California, and chicken fried steak to represent Texas.
Also new to The Shops at Highland Village is The Brass Tap, a full-service craft beer bar, restaurant and entertainment venue, which opened May 27.
Academy Mortgage, one of the country's largest independent mortgage lenders, opened its new second floor office space on May 29. A Tiff's Treats bakery will have a grand opening event on July 6 in space right next to Lambeau's.