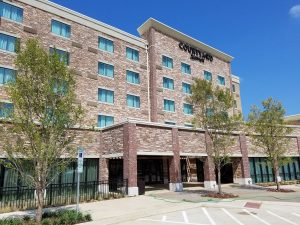 The Courtyard by Marriott Flower Mound, open for less than two years, recently won multiple awards that recognize it as one of the top hotels in the country.
During the Marriott Select Brands General Managers Conference in April, the hotel received the Platinum Circle Award for being in the top 5% of customer satisfaction within the brand, about 1,000 hotels, said Amy Henrickson, general manager of the Flower Mound Courtyard. Henrickson also was named GM of the Year during that conference.
Then at the Aimbridge Hospitality Conference in May, the Flower Mound Courtyard received the Quality Excellence Award, the top award of about 800 hotels, based on reviews by customers, associates and Marriott inspection.
The Flower Mound Courtyard opened in September 2017 with a running start, bringing in more than $100,000 in revenue than was expected in 2017, Henrickson said. Last year, the hotel also had higher occupancy than expected, and this year, "the catering side has really taken off."